Don't shy away from British values in schools - Morgan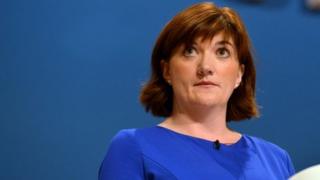 Education Secretary Nicky Morgan has told MPs that schools should not shy away from promoting "fundamental British values" to their pupils.
People with "different ideologies" would otherwise get theirs across, she told the Commons education committee.
In evidence on the Trojan Horse affair and extremism in England's schools, Ms Morgan defended her department's reaction to the affair.
She stressed there had been progress since Ofsted last visited the schools.
The hearing came a day after the education inspectorate reported on significant problems at the five Birmingham schools placed into special measures following concerns about a hard-line Islamist takeover there.
'Mutual respect'
Ms Morgan described the attempt to inculcate pupils with a hard-line Islamist ideology as "concerted and co-ordinated".
She said: "What this has shown is that we must not be shy about talking about fundamental British values."
If we are, she said, then other people who "do not subscribe to our values" will attempt to get their ideologies across.
Instead schools should promote values such as "mutual respect" and equality between girls and boys, she said, adding ideals such as democracy and tolerance must be "woven" into the curriculum.
In the wake of the affair, last July, former education secretary Michael Gove said he would consult on whether schools should be required to "actively promote" British values, rather than simply "respect" them.
Ms Morgan said academies were required to teach British values as part of their funding agreements and that she would be publishing non-statutory guidance on the matter for local authority maintained schools.
Ms Morgan said a "cultural change" was needed and individuals who try to promote a particular view in schools needed to be removed from the system.
'Unbalanced'
The committee also picked up on aspects of the reports which said some staff were still teaching classes for which they were not qualified and that there had been little improvement to the "unbalanced curriculum" in the schools.
Ms Morgan said Ofsted had visited the five schools at the beginning of the September term but that since then further action had been taken.
Department for Education officials went into the schools at the start of October, she said, and action is being taken to address concerns.
She gave the example of one of the schools where 48 hours after Ofsted visited, new appointments to the governing body and leadership were made.
"There are also disciplinary procedures against teachers and any teachers involved in this matter have been removed," she added.
She defended her department's action in relation to the affair but said there were always lessons which could be learned from such an affair and called for Ofsted inspectors to be trained in the government's strategy to prevent radicalisation.
Admissions gaffe
The secretary of state was asked whether the "speed and process of academisation" had played a major part in what had happened in Birmingham.
She denied this: "I would strongly push back on the suggestion that any of this situation in Birmingham is caused either by academisation or because of changes in local government finance. I simply don't think that is the case."
She said the problems in the schools in Birmingham had started before they converted to academy status.
Quizzed over the fact that many local authorities say they feel they have "no role at all" in academies, Ms Morgan made a mistake, saying councils have a role in academy admissions - which they do not.
"Well I think would be wrong for local authorities to feel that because they do absolutely [have a role to play] - not only in terms of admissions - but also in terms of working with academies."