Heads face hard sell on academy status, say unions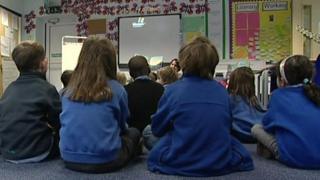 Primary head teachers in England are being cold-called by "brokers", urging them to convert to academy status, a teachers' union leader has told MPs.
Schools are told they might "get x amount of money if you actually go", said Chris Keates, general secretary of the NASUWT.
Ms Keates was giving evidence to a Commons Education Select Committee hearing on academies and free schools.
Heads have expressed "real concerns" about the calls, said Ms Keates.
Concerns have been raised in the past of potential conflicts of interest among individuals contracted to work as advisers in the government's free schools programme in England.
Analysis by the NUT two years ago suggested some of these advisors also worked for academy chains of as Ofsted inspectors.
'Same story'
The unions say evidence from members suggests the issue is still current.
"We hear the same story that you do", said NUT deputy general secretary Kevin Courtney.
"Academy brokers visit a school governing body and say unless you volunteer we will force you and then you won't get a choice of sponsor."
He suggested "many more" schools were being forced into academy status than was suggested by official figures.
The Department for Education can order a school to become a "sponsored academy" if it fails an Ofsted inspection and does not improve quickly enough.
Other schools choose to "convert" to academy status because it can bring greater freedom over what and how to teach.
But Mr Courtney told the committee academy status was no guarantee of higher standards, particularly for primary schools.
"There is a complete dearth of evidence to suggest that the academisation of primary schools leads to higher standards."
'Not a panacea'
He quoted sections of Ofsted reports on primary schools suggesting the process of conversion could in fact distract heads and governors from improving teaching and learning.
He said that while the NUT does not oppose academies it does oppose the process of academisation.
Avril Chambers, the GMB's national officer for education staff, called for a better consultation process for staff and parents on academy conversion.
Jon Richards, Unison's national secretary for education and children's services, said academy status should not be "the only answer" to the issue of school standards: "It is not a panacea".
Mr Richards said Co-operative Learning Trusts were proving a successful alternative to academy chains in parts of south-west England.
Mr Courtney cited the example of the previous government's City Challenge programmes which are credited with transforming schools in London, Manchester and the Black Country.
All four unions said they would continue to support their members no matter which type of school they worked in.
A Department for Education spokeswoman said: "The academy programme is a vital part of our plan for education, which is designed to ensure every child leaves school prepared for life in modern Britain.
"We expect the highest levels of professional conduct from our academy brokers who have been instrumental in developing more than 1,000 sponsored academies since September 2010. These schools are improving the opportunities and life chances of thousands of children across the country."