Tablets 'replacing TVs in children's bedrooms'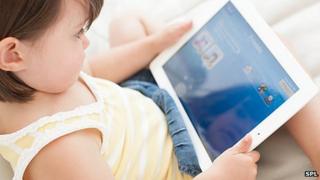 Tablets appear to be replacing televisions in children's bedrooms, statistics from Ofcom suggest.
The communications regulator says one in three children now has their own tablet while the proportion with a TV in their bedroom has dropped to 46% from 66% since 2009.
There has also been a rise from 15% to 20% in the share of children watching television on a tablet.
Ofcom said 11% of three and four-year-olds had their own tablet.
Increasing numbers of children are using tablets to access the internet, play games and watch video clips in the years before starting school.
Three devices
Overall, six in 10 children use a tablet at home - a rise of a half in the past year.
Ofcom said: "The popularity of the tablet could be contributing to the declining number of children with a TV set in their bedroom."
The trends are highlighted in Ofcom's Children and Parents: Media Use and Attitudes Report 2014.
The report reveals that 54% of children aged eight to 11 and three-quarters of 12 to 15-year-olds have three or more digital, media or communications devices of their own.
The survey also shows nearly all parents are taking steps to manage risks when their children use the internet.
Popular methods include parents supervising children online (84%), talking to children about the risks and how to manage them (78%) and setting rules about internet use and access (82%).
More than half of parents also use technological tools to manage the risks, Ofcom says.