Ofsted inspections: More frequent but shorter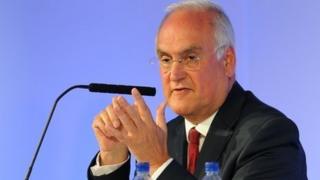 Schools in England will face more frequent, shorter inspections, but unannounced inspections will not become standard, says Ofsted.
Chief inspector Sir Michael Wilshaw said schools rated good will be inspected at least every three years, rather than up to seven at present.
But no-warning inspections, proposed after the so-called Trojan Horse scandal, would not become the norm.
The Ofsted chief said he was determined to challenge "mediocre schools".
Sir Michael also indicated that he was "winning the argument" for Ofsted to be allowed to inspect academy trusts, in the same way the watchdog can inspect local authority services.
Trojan Horse
The proposed changes to the inspection system will affect more than 60% of schools in England, which have been judged as "good".
Sir Michael said the shake-up would create a "radically different inspection regime" in what was labelled as the biggest reform of inspections in 25 years.
It will mean good schools will be inspected more often, but there will be shorter visits from inspectors.
Sir Michael said the lesson of the Trojan Horse claims in Birmingham, where there were warnings of hardline Muslim takeovers of schools, had been that schools could get into difficulties very quickly.
"That's what I'm really worried about. Particularly where there's fragility in schools and fragility in the leadership of schools, decline can set in very quickly."
The chief inspector said that the investigations into Birmingham had "focused all our minds" and revealed the need for more regular monitoring by inspectors.
He warned that last year across England more than 800 schools previously identified as good had "slipped back" into a lower grading.
But he ruled out no-notice inspections for all schools - but said this was not "caving in" to pressure from head teachers who had strongly opposed the proposal.
Following reports into the Trojan Horse schools, there were calls for all inspections to be made without warning, so that schools could not conceal any unacceptable behaviour.
Prime Minister David Cameron had backed calls to test such a no-warning system.
Social media
Sir Michael said that there were existing powers that allowed no-notice inspections - and that 40 had been carried out recently - but that it would not become the default position. Instead, schools will continue to be warned the day before an inspection.
The requirements of the proposed inspection process also spell out that pupils will need to be kept safe from "exploitation and extremism, including when using the internet and social media".
He also rejected the suggestion that a shorter inspection, with two inspectors spending a day in the school, would be less thorough.
"You can spot a good school in half an hour," he said.
If the inspectors carrying out a short inspection are concerned that the school is no longer good, this will trigger a full inspection.
The increasing frequency of inspections will not apply to outstanding schools, as they are exempt from regular inspections, unless there are specific concerns. Underperforming schools already face more frequent monitoring inspections.
Sir Michael has previously highlighted the gap in inspections, where the Department for Education has not allowed Ofsted to inspect academy trusts.
He suggested that the need to check "the quality of leadership" in academy trusts was "winning the argument" to change this.
The National Union of Teachers warned that shorter inspections must not become over-reliant on school data - and said that the inspection system needed "root-and- branch reform".
"The current system is resulting in many heads and teachers unwilling to take on jobs in disadvantaged schools - afraid for their jobs as a result of poor inspections, afraid to take risks and be experimental," said the union's general secretary Christine Blower.
Brian Lightman, leader of the Association of School and College Leaders, welcomed the decision not to have no-notice inspections and said the changes were "the right direction of travel".
But he warned there was still "too much variability in validity and reliability of judgements" and that Ofsted "still has some way to go to restoring heads' trust in the reliability of inspection".
Labour's shadow education secretary, Tristram Hunt, said: "School standards have suffered under David Cameron as a result of the damaging lack of local oversight in the school system. Drops in performance have been left to go unchecked, leading to problems becoming entrenched."