Teaching assistants to have new set of standards
By Judith Burns
Education reporter, BBC News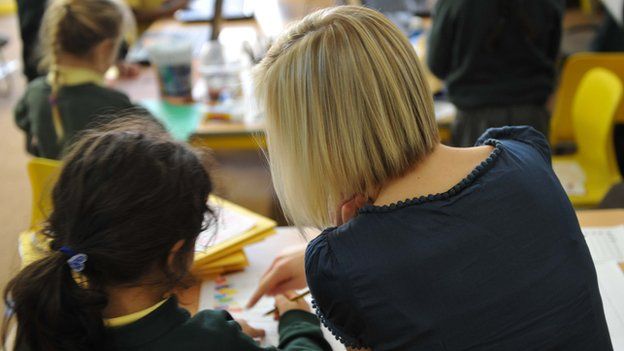 A new set of standards is to be drawn up for teaching assistants in England's state schools, the government has said.
An independent review will outline "unequivocal, clear" measures to make the most of their skills and expertise, the Department of Education added.
Last year the right-wing think-tank Reform said teaching assistants were not an effective use of school budgets.
But the review was welcomed by Mary Bousted, general secretary of the Association of Teachers and Lecturers.
"Teaching assistants are important members of the education team and the key work they do in schools and colleges needs to be properly recognised through a framework of professional standards," she said.
She also praised the inclusion of teachers and assistants on the review panel, saying this would help to reflect the "day-to-day experience of this important work".
'Good assistants essential'
Classroom support staff work directly with children with disabilities and learning difficulties and sometimes teach small groups of children.
Reform suggested some pupils made less progress when supported by teaching assistants, compared with others of similar ability without support.
But David Laws, the schools minister, said "good teaching assistants" were "essential to driving up standards in the classroom and helping students fulfil their full potential".
And Rob Webster, a research associate at the Institute of Education, said a more in-depth reading of the figures indicated that "properly trained" teaching assistants could be very effective in boosting pupils' attainment.
Jon Richards from Unison, which represents 150,000 classroom assistants, said they were an "invaluable group of staff".
He said his organisation's campaign to defend these staff had "changed the narrative" and "showed that when deployed properly, teaching assistants have a positive impact on children's education".
However, Labour's shadow education secretary, Tristram Hunt, accused the government of undermining and devaluing such staff.
"I know the value that school support staff, often the unsung heroes and heroines in our schools, can bring to raising school standards."
Labour would ensure a fair deal for teaching assistants, Mr Hunt said.
The standards drawn up by the review will aim to "steer the professional development of teaching assistants at all levels" and are "designed to inspire confidence" in these staff, the Department for Education said in a statement.
Kate Dethridge, the head teacher at Churchend Primary Academy in Reading, will chair the panel. Its findings are expected next spring.
Related Internet Links
The BBC is not responsible for the content of external sites.