Cash incentives 'don't boost GCSE results'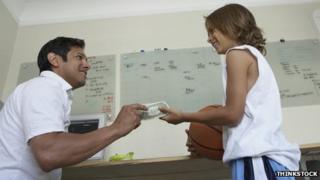 Parents who use financial incentives to encourage their children to do well in their GCSEs may be wasting their money, a study suggests.
But the promise of an outing for doing well at school, could help struggling pupils improve, it found.
More than 10,000 pupils were given either event tickets or money, which was deducted if targets were missed.
Researchers said cash incentives could boost classroom effort, but had little impact on learning.
Researchers from the Universities of Bristol and Chicago divided the pupils from 63 schools into two groups. Their results for maths, English and science GCSEs were then tracked over a year from 2012.
'Loss aversion'
The first set of pupils was told that they had £80 at the start of each half-term, and that they were to lose £10 if they missed a set target for attendance or behaviour, and £30 for classwork and homework.
The second set was allocated eight tickets at the beginning of each half-term, and promised a trip or outing if they retained 12 tickets by the end of the year.
They lost one ticket each for missing the attendance and behaviour targets, and three for missing the classwork and homework goals.
Both schemes were based on the theory of "loss aversion" which says that people dislike being penalised more than they like rewards.
Although there was evidence of improvement in classwork, in the case of cash incentives, overall there was no evidence they had a significant positive impact on their GCSE results in any of the three subjects.
"This may suggest that even when there is a marked improvement in effort in classwork, this does not translate into higher GCSE attainment," researchers said.
There was also no impact on the students' behaviour, attendance or homework effort, they added.
'Powerful'
The study also concluded that offering pupils the chance of a trip or an outing had no overall significant impact on GCSE results.
But improvements in the maths scores of a smaller group of pupils with previous low attainment were seen. The youngsters made two months extra progress on average - around a quarter of a grade in GCSE maths.
Dr Kevan Collins, chief executive of the Education Endowment Foundation, which published the research, said: "The use of incentives in schools is not a new idea and can appear attractive to schools and parents who are trying to motivate their children.
"The study suggests that while incentives can increase effort in the classroom, their direct impact on learning is low."
He said it was important to evaluate schemes like these to know what does and does not make a difference to pupils' learning, especially for poorer students.
"While incentives may change surface behaviours, what really makes the difference is how students are taught," he said.
"The best evidence currently available suggests that the most powerful driver of achievement in schools is great teaching, particularly for students from low-income families," Dr Collins concluded.