Don't pass bought essays as your own, students warned
By Judith Burns
Education reporter, BBC News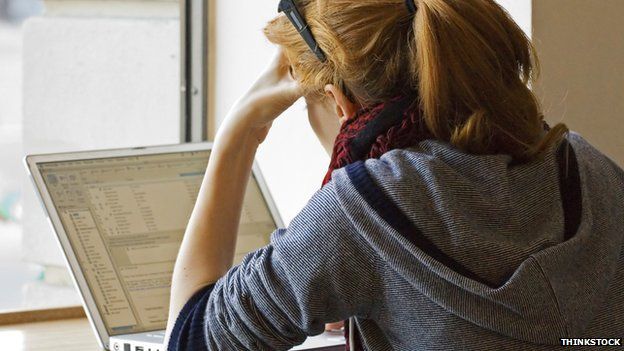 A-level students who submit essays bought online are not only cheating but may also be paying for a poor product, says England's exams regulator.
Many of the essays on sale are nowhere near the claimed standard or grade, says a report for Ofqual.
Researchers carried out a "mystery shopper exercise" on websites offering to write A-level standard essays.
But one of the companies said it was "disappointed and disheartened" by Ofqual's "flawed" research,
Chief Regulator Glenys Stacey had a clear message for students considering handing in the essays as coursework.
"Anyone who buys them isn't getting value for money and more importantly, while there can be valid reasons for students buying these essays, such as essay practice or research, any attempt to pass this work off as the student's own is cheating."
The researchers say they contacted three companies 'incognito' and commissioned a series of history and English essays.
The brief was to produce A grade history essays, 2,000 words long and delivered within seven days.
The English essays were to be the same but only 1,250 words long.
The cost was £120 to £220 for the history essays, and £70 to £138 for the English essays.
The report says the essays were all delivered in time - but were not good enough.
"The assessment of the various coursework essays by external examiners was almost universally negative", says the report.
Grades for the history essays ranged between B and E, and for the English essays, between the C/D grade boundary and U.
"Overall the commissioned essays were considered to be of poor quality and fell well short of what might be expected from a representative student at this stage of their academic career", says the study.
The authors say students who submit these essays as their own "may devalue the currency of UK education qualifications and potentially defraud those students who undertake their studies without use of these 'support' services".
Ms Stacey said Ofqual wanted to ensure a "a level playing field for students, with each student assessed fairly"
She advised teachers to "look out for a change in style in how the student normally writes, or even a very fast turnaround of a piece of work.
"Exam boards should also be doing everything they can to stop these essays being submitted into the system, and they have a responsibility to ensure their malpractice monitoring systems are effective."
Tony Eynon, chief executive of All Answers which owns UK Essays, which is mentioned in the report, said the company was "extremely disheartened and disappointed by the wholly inaccurate and presumptuous report published by Ofqual".
Mr Eynon said the methodology of the paper was "deeply flawed and inconsistent, using a prejudiced approach in marking the essays.
"Papers were not marked anonymously and examiners were informed about the source of the essays prior to marking."
The company says its work "is not designed to be handed in, and at UK Essays we actively discourage this behaviour".
It says many customers are international students with English as a second language, particularly at university level.
The essays are designed to be used as "model answers" which make it easier for students with "language constraints" to understand and structure their work, it adds.
Related Internet Links
The BBC is not responsible for the content of external sites.