Nicky Morgan must tackle teachers' workload, says NUT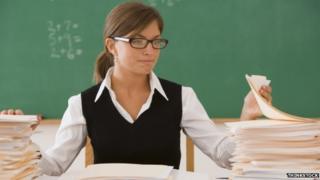 The National Union of Teachers has threatened more strike action unless the education secretary reduces teachers' workloads in England.
Nicky Morgan makes her first Conservative Party conference speech as education secretary on Tuesday.
About 90% of 16,379 NUT members who responded to a survey said they had considered quitting in the past two years over excessive work.
A spokesman for Mrs Morgan said her speech would not disappoint the NUT.
The union sent out an email survey to its members in England and Wales last weekend.
'Utterly depressing'
It says the responses make "for shocking and sobering reading" and demonstrate the scale of the "workload crisis" in schools.
90% had considered giving up teaching during the past two years because of workload.
87% said they knew one or more colleagues who had given up during the past two years
96.5% said their workload had negative consequences for their family or personal life.
NUT general secretary Christine Blower called the findings "utterly depressing".
"Nicky Morgan needs to address this in her speech today and in her talks with teacher unions."
Ms Blower said large numbers of teachers leaving the profession, combined with a possible shortfall in the recruitment of trainee teachers, could be "disastrous for children and young people".
The union says excessive and unnecessary "accountability measures" required by school leaders for Ofsted mean teachers have to spend hours making detailed records of work done by pupils in lessons.
"The general run of teachers doing a good job should not be put through this kind of evidencing," said deputy general secretary Kevin Courtney.
"This treats every teacher as if they were in trouble all the time."
'Change of tone'
Mr Courtney said he believed Mrs Morgan, who took over as education secretary in July, was aware of the extent to which teachers were struggling to cope with paperwork.
He said there had been a change of tone in the talks since she took over from Michael Gove.
The union highlights comments from teachers who responded to the survey and stressed these were "classroom teachers and not union activists".
"There is no such thing as work-life balance in this profession. It's so sad - I want to love this job but sometimes it's really hard to know how to," said one.
"This isn't why I became a teacher. This isn't what I want for my family. It's not fair on the pupils, it's not fair on my wife or child and it's not fair on me," said another.
More than a third said they thought about quitting "fairly constantly", with a further 46% saying they considered it from time to time.
One in 10 was actively seeking another job but 10% said they never thought about leaving.
A Department for Education spokeswoman said the government recognised teachers' workload could be "unnecessarily high" with "needless bureaucracy" stopping them spending time teaching.
"The Secretary of State has already made clear to unions that we have a common interest in tackling this."
The spokeswoman said the government had already cut over 21,000 pages of guidance, streamlined the inspection process and made it clear formal written plans are not expected for every lesson.
Labour's shadow schools minister, Kevin Brennan, said the government was responsible for "immense damage to school standards" by downgrading the teaching profession.
Mr Brennan said Labour would ensure all teachers become qualified and would open new career pathways to help the best remain in the classroom.