More children pass phonics check, says government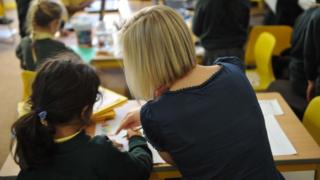 More children are meeting the expected standard in the "phonics check" for six-year-olds in England, the government says.
Some 74% passed the test in 2014, up from 58% in 2012, new data suggests.
Schools Minister Nick Gibb hailed the data as "irrefutable evidence that our plan for education is working".
But Russell Hobby of the National Association of Head Teachers said "the widespread teaching of nonsense words" was an "unwelcome side effect".
The phonic screening check was introduced in 2012 to assess whether six-year-olds reach the expected standard in "phonic decoding".
On track
All state-funded schools which teach this age group must administer the check.
This year almost three-quarters of children (74%) met the expected standard of phonic decoding, compared with 69% in 2013 and 58% in 2012, according to Department for Education figures.
The government says this means 100,000 more children than in 2012 are now "on track to become excellent readers".
It also notes a slight closing of the attainment gap, of one percentage point since 2013, between disadvantaged pupils and their peers.
But poorer pupils still lag behind, with 61% passing the check, compared with 77% of better-off pupils.
Pupils who do not reach the standard at six re-take the test a year later and the latest figures show the proportion of seven-year-olds who pass has also increased.
Mr Gibb said without the government's "relentless emphasis on phonics" many more pupils would still be struggling.
"For too long thousands of young people, particularly from disadvantaged backgrounds, were allowed to slip through the net and fall behind in reading.
"This government's drive to tackle illiteracy is putting a stop to that, and these results show that more and more schools are using phonics well, in order to get their pupils reading properly."
Some teachers complain the test requires children to learn how to pronounce non-words as well as real words.
Side effect
The government says this is because children should be able to blend common sounds to make up longer words, rather than recognising the whole word and reading it for meaning.
There have also been concerns that over-rigid use of phonics may put off children who are beginning to read fluently.
Mr Hobby said: "The systematic use of phonics is clearly established in primary schools and is proving an effective strategy for teaching most children the early steps of reading.
"The government's test has come with an unwelcome side effect though - the widespread teaching of nonsense words.
"The gap between pupils from rich and poor families remains wide.
"This gap will not close until we also focus on factors beyond technical skills - time spent reading at home and with parents, range of vocabulary and the amount of conversation children hear.
"You can't decode words on a page if you can't discriminate the sounds in the first place, nor can you enjoy a story if you don't know what the words mean."
Christine Blower, general secretary of the National Union of Teachers, said the check would not tell teachers anything "they do not already know about the reading skills of the children in their class".
"Teachers accept that phonics is one way to teach children to read but it is not the only one and does not suit all children."