One in seven countries has leader who studied in UK
By Sean Coughlan
BBC News education correspondent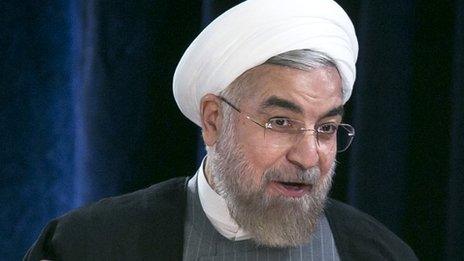 Almost one in seven countries around the world has a prime minister or head of state who studied in a UK higher education institution, according to an analysis by the British Council.
This measure of "soft power" shows 27 countries have a UK-educated leader.
They range from Australian prime minister Tony Abbott to Syrian president Bashar al-Assad to the president of Iran, Hassan Rouhani.
But another report has warned of falling numbers of overseas students.
The analysis from the British Council, which promotes UK culture and education, shows the extensive and diverse impact of the UK's university system.
It shows that among more than 190 countries, 27 have a leader, either political or a ceremonial head of state, who studied for at least part of their higher education in the UK.
This includes crowned heads such as King Harald of Norway who studied at the University of Oxford and King Tupou of Tonga who studied at the University of East Anglia.
The prime minister of Malaysia, Najib Razak, studied at Nottingham University, Alexander Stubb prime minister of Finland went to the London School of Economics and Hassan Rouhani, president of Iran, studied at Glasgow Caledonian.
Bashar al-Assad, president of Syria, studied at the Western Eye Hospital in London.
The British Council's head of education, Rebecca Hughes, says this formative link with so many world leaders is a "long-term asset" for the UK.
But Prof Hughes warned that attracting "the next generation of world leaders" was getting harder as "higher education internationalises and technology makes new forms of learning ever more accessible".
As well as the cultural and political influence, the income from tuition fees from overseas students is becoming an increasingly important financial contribution.
According to universities, overseas students are worth £7bn per year to the UK economy.
But a report from Universities UK warns of problems in recruiting overseas students, particularly from India.
In the two academic years from 2011 to 2013, recruitment of students from India to UK universities almost halved - and there are signs that this downward trend could be continuing.
But there has been a growth in demand from students in China and Malaysia.
The university sector has been lobbying for immigration targets not to include overseas students.
There have been concerns from universities of a perception that the immigration system wants to limit students from other countries coming to the UK.
On Wednesday, the Institute of Directors backed calls to remove overseas students from immigration targets, arguing that it hampered employers from recruiting skilled workers and was not "pro-business".