Streaming 'widens rich-poor achievement gap'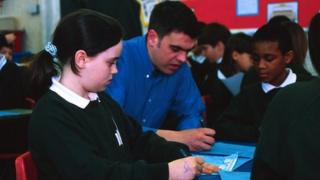 Streaming children by ability in early primary school widens the achievement gap between rich and disadvantaged youngsters, a study says.
One in six pupils in England is grouped in classes by ability across several subjects, the study found.
Researchers studied the backgrounds of 2,544 six and seven-year-olds and weighed their national test results against prior attainment at age five.
Pupils in low streams did significantly worse than their non-streamed peers.
The study from the Institute of Education at the University of London compared the reading, maths and overall achievement of pupils who were streamed and not streamed.
'High attainers'
Approximately 17% of the pupils studied, who were born in 2000-2001, were in ability streams. Some 8% of the total group were in the top stream, 5% in the middle and 4% in the bottom stream.
Those in the bottom stream were more likely to have behavioural difficulties, be from poor backgrounds and to have less educated mothers.
The research also found relatively high-attaining pupils did better if placed in a top stream than they would have done in schools which did not divide year groups into ability streams.
They then carried out statistical analyses to see if pupils benefited or not from being placed in a stream.
'Early age'
The paper, presented at the annual conference of the British Educational Research Association in London on Thursday, concluded: "Streaming… advantages those who are already high attainers, disadvantaging those who are placed in middle or lower groups who are deprived of working with those who are more advanced."
This reflects earlier research which suggests pupils of any given level tend to do better in a class with high-performing peers.
The paper says: "Streaming undermines the attempts of governments to raise attainment for all children whatever their socio-economic status.
It adds: "Those of lower socio-economic status, as identified across a range of measures, tend to be disproportionately placed in lower streams, with consequences for attainment.
"Overall, the evidence indicates that streaming, particularly where it begins at a very early age, is likely to be counterproductive in reducing the attainment gap."
The findings are being presented by Professor Susan Hallam and Dr Samantha Parsons, of the Institute of Education at the University of London.
It comes after reports said the Conservative Party was considering making it compulsory for secondary schools to place pupils in ability groups. The reports were denied by Education Secretary Nicky Morgan.