Many teachers mistrust A-level grades, poll suggests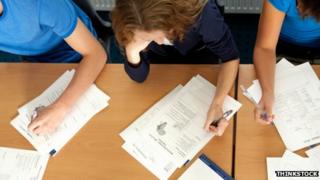 Nearly half of teachers lack confidence in A-level grades, research for England's exams watchdog Ofqual says.
A similar proportion believe A-level marking has got less accurate over the past two years, according to the poll, which also canvassed heads and pupils.
But the vast majority of heads (81%) and most teachers (74%) have confidence in the A-level system overall.
"Results showed a degree of reservation among head teachers about the grading and marking of GCSEs," says Ofqual.
It questioned 230 head teachers, 698 teachers, 365 pupils and 321 parents, alongside 1,800 members of the public.
When head teachers were asked what percentage of students they thought got the right A-level grade, a range of between 71% and 80% was the most popular answer.
'Pace of change'
One of the main concerns about the exams system as a whole appeared to be constant change.
New A-levels are being introduced from next September. This comes after the first wave of exams in the new linear GCSEs - where the course is tested with exams at the end of the two-year course.
General secretary of the National Association of Head Teachers Russell Hobby said: "There are several lessons to be learned. Falling levels of confidence in the system amongst school leaders and teachers indicate both concern about the current structure and apprehension about both the content and pace of change.
"Some perceptions may be open to challenge but this implies that Ofqual faces the urgent task of addressing matters causing disquiet. Its primary function is to maintain and strengthen public confidence in the qualifications system. The report's findings suggest that there is important work to be done to restore confidence."