Multimillion-pound training pledge for creative industries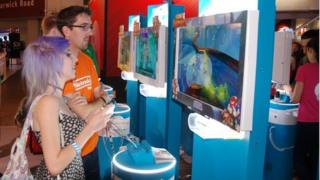 The creative industries and government have pledged cash to fill a skills gap and train "work ready" games designers, animators and visual effects artists.
The Next Gen Skills Academy will provide "cutting edge training" in a sector worth at least £71bn a year to the UK economy.
Ed Vaizey, Minister for Culture and the Digital Economy, made the announcement at the EGX games show at Earls Court.
Mr Vaizey said the aim was to "continue to grow this industry".
He described the creative sector as "a powerhouse within the UK economy" but said employers often found it hard to recruit staff who were up-to-speed with the latest technologies.
Skills gap
He said the academy would "work on the skills gap in a constantly changing industry".
Some of the UK's leading visual effects, animation and games employers have pledged money and resources worth £3.6m over three years towards the project, with government funding bringing the total to £6.5m.
Industry backers include Framestore, Pinewood Studios, Sony Computer Entertainment Europe, Centroid, Double Negative, Ubisoft Reflections and Moving Picture Company.
Jo Twist, chief executive of the games industry trade body, UK Interactive Entertainment (Ukie) said the industry-led academy would ensure "courses will be kept immediately up-to-date".
From next year, the academy will design and deliver a range of new courses up to degree level in the skills the creative industries need.
Initially the aim is to train some 1,320 people to degree level, including 150 higher level apprentices.
It will also deliver more than 1,000 short courses for people who need to update and extend their skills.
The courses will be delivered online and by a network of further education colleges, headed by Amersham and Wycombe College, a specialist in the field.
Ms Twist called for better careers advice specifically relating to the games industry which employs an estimated 1.7m people throughout the UK.
"We need to make sure that parents, teachers and students know they can have a career in this country in games.
"It's not just a hobby."
Michael Davis, chief executive of the UK Commission for Employment and Skills said: "When employers work in partnership they can accomplish great things.
"This academy is an example of how, by getting together and discussing their skills needs, businesses have managed to create something bigger and better than they could have achieved on their own."
Business Secretary Vince Cable said: "Visual effects and games in particular are a great British success story. But if we're to maintain our cutting-edge position, we need to make sure that we have the talent and skills the industry needs."
Meanwhile, new figures specifically for the games industry suggest it alone may be worth more than double the government's current estimate.
A report from Ukie and the innovation charity Nesta, suggests that there are currently some 1,900 games businesses in the UK with a total economic value that "could be as much as £1.72bn - double previous estimates".
In 2012, the Department of Culture, Media and Sport estimated the value of the industry at £946m.