Cash warning for university expansion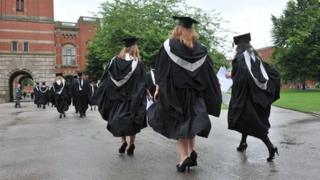 University budgets could be put under "severe strain" by plans to remove limits on student numbers in England, warns a policy analysis.
The Higher Education Policy Institute says the increase, announced last year, was "sprung on universities".
"One critical outstanding question is how the policy is to be paid for," says institute director, Nick Hillman.
A Department for Business, Innovation and Skills spokesman says it is "removing the cap on aspiration".
The Higher Education Policy Institute report says the government's proposals, to be introduced from autumn 2015, are expected to mean a 20% increase in UK undergraduates.
'Fuzzy'
Such an expansion could "transform lives, improve social mobility and raise economic performance", says report author Mr Hillman, a former adviser to David Willetts, the previous Universities Minister.
But the think tank's report says funding arrangements for adding another 180,000 students remain "fuzzy".
After three years without number controls, there is an anticipated cost of £720m in extra grants and teaching costs and £700m in loan write-off costs.
The option of raising funds by selling the student loan book has been blocked by Business Secretary Vince Cable, who in July ruled out such a sale before the general election.
The report raises concerns that it could mean the existing higher education budget being stretched more thinly, putting pressure on spending per student.
The expansion in student numbers might not be in traditional universities. The report says that international evidence suggests that much of the growth might be in private providers.
Without any limits on numbers, there could be much more recruitment of European Union students, suggests the research.
'Aspirational policy'
The research concludes that there is a risk of a "substantial decline" in the amount available for each student's education, or else there could be "changes to student loans to recoup more of the costs" or the "re-imposition of number controls in some form".
The think tank analyses why the government has made this shift in policy - arguing that abolishing the cap on numbers has political and economic benefits.
Allowing more people to go to university can be "sold as an aspirational policy" in the run-up to the election, the report says.
It also a recognition that increasing graduate numbers is a way of boosting economic performance.
And the report says that since demand for higher education is continuing to rise, the policy is making a "virtue of reality".
"The decision to remove student number controls is a vote of confidence in universities and young people," says Mr Hillman.
But he warns: "It is hard to square current forecasts on the future number of students with the expected cuts to public expenditure.
"Spending on each student may come under severe strain whoever wins the next election."
Wendy Piatt, head of the Russell Group of leading universities, said: "This report is right to highlight the uncertainty behind the government's plans to increase undergraduate student numbers in England.
"It would be very worrying if this policy leads to less funding per student. Good teaching requires proper levels of investment."
"Higher education is not something to be piled high and provided on the cheap," said Sally Hunt, leader of the UCU lecturers' union.
"While the policy is admirable in its intention to widen access, the government needs to clearly spell out where the extra funding will be found and introduce robust quality controls.
"Recent concerns about for-profit companies milking the system, while delivering qualifications of questionable value, must be properly addressed."
A Department for Business, Innovation and Skills spokesman said: "Removing the cap on student places will make a reality of the Robbins ambition that university should be open all who are qualified by ability and attainment.
"This year has seen record numbers of young people admitted to university, including the highest ever number of people from disadvantaged areas.
"These crucial reforms, which have removed the cap on aspiration, have been specifically funded in the Chancellor's last autumn statement."