Ofsted wave of no-notice inspections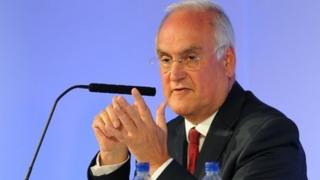 There will be 40 unannounced school inspections across England this month, Ofsted has revealed.
After the so-called Trojan Horse allegations in Birmingham, there were proposals for inspectors to visit schools without warning.
There had been claims that schools given advance warning had time to conceal any unacceptable behaviour.
Ofsted chief Sir Michael Wilshaw says parents expect inspectors to "get to the heart of any problems".
In the wake of claims that some schools in Birmingham were being taken over by groups with a hard-line Muslim ethos, there were calls to shift to inspections without any prior warning.
This followed concerns that schools were able to change how they behaved when they knew they that Ofsted inspectors were about to call.
Among the schools criticised in the Trojan Horse inquiries were some which Ofsted had previously graded as outstanding.
Trojan schools re-inspected
Ofsted has revealed that inspectors have returned for monitoring checks on five of the Birmingham schools placed into special measures after the Trojan Horse investigations.
Sir Michael accompanied inspectors at Park View school - with the results of these monitoring inspectors expected to be published in the near future.
At present, schools are told they are to be inspected in the afternoon before Ofsted inspectors arrive.
But the Ofsted chief says that using existing powers, there will be a wave of two-day unannounced visits, which will see whether this will be feasible as a more general system.
These will be across all England and not focused in any particular region.
There have been warnings of practical difficulties of no-notice inspections, such as the head teacher being away that day or pupils being out on school trips.
Sir Michael is also calling on Ofsted's regional directors to carry out no-notice inspections if there are particular concerns about rapid falls in standards, worries about safeguarding, the governance of schools and a lack of balance in the curriculum.
"I'm currently giving thought to whether Ofsted should move to more routine, no-notice inspections as part of our wider education inspection reforms, which we will be consulting on later this year," said Sir Michael.
"In the meantime, under our regional structure, inspectors are well-placed to use their local knowledge and contacts to identify where these sorts of problems may be taking hold so we can respond swiftly and report publicly on what we find."
Ofsted is already investigating claims that a number of schools in academy trusts in Norfolk were given advance warning of when inspections were going to be carried out.
The National Union of Teachers says it opposes adopting a system of routine no-notice school inspections.
"For accountability to be meaningful, there needs to be proper professional and respectful dialogue," said the union's general secretary, Christine Blower.
"The government should look to and learn from the light touch accountability systems of high-performing countries such as Finland and New Zealand which are based on trusting schools and teachers to do the best by their students, rather than the issuing of threats or penalties."