Universities ignoring laddish culture, says NUS leader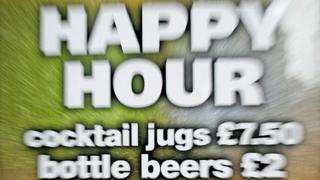 Universities are being accused of ignoring a laddish culture on campuses by the president of the National Union of Students Toni Pearce.
A survey of 2,000 students commissioned by the NUS suggests a quarter of those polled had experienced unwelcome sexual advances.
Two-thirds had heard rape or sexual assault jokes on campuses.
Universities UK praised the NUS for its important work and said universities took student welfare very seriously.
The survey results, seen by BBC Radio 5 live Breakfast, are published as many students begin degree courses with a hectic round of events known as freshers' week.
These are often characterised by nights out and heavy drinking, as new undergraduates get to know their fellow students and the towns and cities they have come to study in.
The NUS is launching a social media campaign to highlight "lad culture" on university campuses and has asked students to tweet their experiences.
Its survey also found a third of the female and male students questioned had had overtly sexual comments directed at them which had made them feel uncomfortable.
'Serious problem'
More than one-third had seen promotional materials around university that featured sexualised images of women.
Half the women and a third of the men who responded "yes", said it made them feel uncomfortable.
Examples of these included a feature, entitled Top Student Totty, in a student publication, asking women to submit pictures of themselves.
Ms Pearce said: "These stats show that harassment is rife on campus, but we still we keep hearing from universities that there is no fear, no intimidation, no problem - well this new research says otherwise.
"Sadly, all of these elements exist in campus life, we know because we hear it from students. They told us in the Hidden Marks report in 2010, they revealed the depths of lad culture in 'That's what she said' last year, and they've spoken again today.
"Now I say to universities everywhere - the passing-the-buck approach of 'not on my campus' is completely unacceptable. They must acknowledge the problems and join us in confronting them."
'Society issue'
Universities UK chief executive Nicola Dandridge said the efforts of the NUS had helped contribute to a better understanding of behaviour that can undermine women and other groups and how that can be exhibited on campus.
"Universities take the welfare of their students very seriously and have internal rules relating to student behaviour. Where students require support, there are a variety of services on hand to listen to students including welfare officers, advice centres and university counselling services.
"If alleged criminal behaviour is involved, all universities would support any students reporting such incidents to the police.
"It is important to remember that this is an issue for society generally, not just one confined to university students."