County Durham and Darlington NHS trust job fears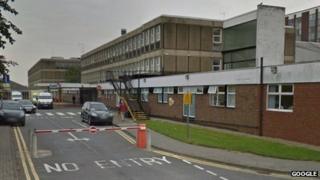 Hundreds of hospital jobs at County Durham and Darlington NHS Foundation Trust are under threat.
The posts include 300 clerical staff, 25 managers, 20 health professionals and five nurses, and represent 4% of the 8,000-strong workforce.
Unite said a cut in clerical staff could also impact on patient care.
The trust said it would be doing all it could to protect frontline services, and expects the final number would be less than the 350.
'Starting point'
Martin Wright from Unite said: "Clerical workers are an integral part of any team.
"If you reduce the amount of clerical support medical and nursing staff have then a significant amount more of their time has to be spent on clerical and administrative tasks.
"Ultimately that reduces the amount of time they have for patient care."
Sandra Bullock, from the Royal College of Nursing, said: "It has been quite a surprise to see something of this scale happening at such short notice."
Louise Ludgrove, from Durham and Darlington NHS Foundation Trust, said: "I think it is important to be clear that we're very much at a starting point for assessing numbers.
"As we go through the consultation we will work to absolutely minimise compulsory redundancies.
"Through holding vacancies for affected staff, through redeploying and retraining staff, we will be working to support them in any way we can."