Urgent help needed for adults with poor skills, say MPs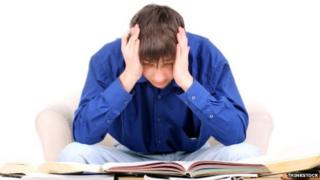 The adults who struggle most with literacy and numeracy are not getting the help they need, say MPs.
An "alarmingly high" proportion of adults in England lack a good grasp of reading, writing and maths, says the Commons Business Select Committee.
An urgent, high-profile government campaign is needed to boost support for adults with the poorest skills, says the committee.
"There is no silver bullet" to the problem, said chairman, Adrian Bailey.
The report says successive governments have failed to address the problem adequately.
"Problems with reading, writing and maths have a huge impact on people's daily lives, including getting and keeping a job, understanding bills, forms and documents, and guiding children through education.
Poor skills 'trap'
"It can affect adults in many walks of life, but it also undermines the economic performance of our country," said Mr Bailey.
The MPs also want the reading, writing and maths skills of jobseekers to be assessed at the earliest possible stage of unemployment benefit claims.
This would be an ideal opportunity to inform people of training available to help them gain the vital skills they need, they add.
The report argues that while the government has pledged free training and tuition for any adult who wants to study English and maths up to GCSE, those with the most limited skills in these core areas are not aware this support is available.
It calls on the government to fund a new advertising campaign to publicise the training available, as adult learning can play a vital role in helping people escape the trap of low-skilled jobs or unemployment.
The committee also voiced concern that public funding for some adult learning schemes, such as the TUC's Unionlearn, has been cut, despite their record of achieving results at a fraction of the cost of full-time education.
The MPs highlight many "fantastic examples of literacy and numeracy programmes", run by workplaces, community centres, schools, prisons and homeless charities.
Achieving GCSE should not necessarily be the "gold standard" as sometimes less linear learning schemes can be more effective for adults, they add.
Cuts 'unsustainable'
Joy Mercer, director of education policy at the Association of Colleges, said the government needed to make adult learning a priority by restoring funding cuts.
"Funding cuts have led to a 35% drop in the adult skills budget over the past five years," he said.
"This is not sustainable, particularly when we need to strengthen the skills of our workers to ensure that as a country, we are able to compete in the global market.
The National Institute of Adult Continuing Education echoed concerns about the long-term implications of funding cuts.
"It is critical for the future of our society and economy that all adults have the right opportunities to improve their literacy and numeracy," said deputy chief executive Carol Taylor.
Skills Minister Nick Boles promised the government would "carefully consider" the conclusions of "this timely and thorough investigation".
He said: "We must not be complacent. We will continue our reforms to raise aspirations of learners and to improve the quality of English and maths teaching."
TUC general secretary Frances O'Grady welcomed the committee's support for Unionlearn.
"We are keen to continue bringing these benefits to as many workers as possible, especially those who are not reached by traditional learning routes," said Ms O'Grady.