Language teaching help announced for teachers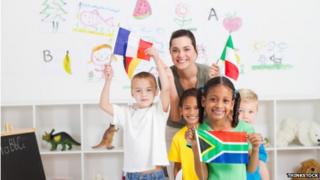 A network of foreign language teaching hubs is to be set up across England to boost the language skills of teachers.
It follows fears that many teachers do not have the skills to implement the new curriculum which requires foreign language teaching in primary schools.
The government says the £1.8m programme will work with 2,000 primary and secondary teachers over two years.
The British Council says a quarter of primaries lack any staff with more than a GCSE in a foreign language.
The CBI has complained that the UK's education system is failing to produce enough people with foreign-language skills to meet a growing need from business.
'A challenge'
The new primary curriculum which requires local-authority-run primary schools to teach children aged seven to 11 a foreign language, came into force this week.
In March, a survey by the British Council and the CfBT Education Trust showed that while schools were "overwhelmingly positive" about the change, three-quarters felt that implementing it would be a challenge.
Of 591 primary schools polled, 23% said their teachers had only GCSEs in foreign languages, 31% had teachers with A-level and 30%, a degree in modern languages - but this figure was down from 40% the previous year.
The new projects will focus on supporting teachers in the new languages curriculum, including speaking, writing, grammar, translation and the introduction of foreign language literary texts in secondary school.
Education Secretary Nicky Morgan said: "By learning a foreign language young people can go on to study and work abroad, but it's not just that.
"Knowledge of different languages and cultures is increasingly important to employers in the UK too.
"That's why the ability to speak and understand different languages is vital if young people are going to leave school able to get a job and get on in life.
Regional schemes
"We know that teachers are integral to this language revival so we are backing these schemes, led by teachers, for teachers, so they have the support they need to prepare our young people for life in modern Britain."
Eight schemes will work with schools in Birmingham, Cornwall, Leicester, Gloucestershire, Reading, Warwick, Hampshire and Warrington.
The ninth, run by the Association for Language Learning, will run a series of regional projects across the North East, east of England and north Midlands.
Mark Moulding of the British Council said: "Inspirational teachers are absolutely crucial to implementing the curriculum changes and getting more young people passionate about languages. So any steps to improve language teaching are a good thing.
"With fewer young people taking foreign language degrees, these new steps will also help to tackle the shrinking size of the traditional pool of language teachers of the future."
The Department for Education says its EBacc measure of school performance has already helped reverse a decline in the numbers taking GCSEs in modern languages.