Morgan denies compulsory ability group plan for schools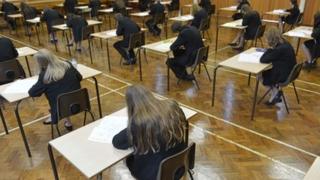 Education Secretary Nicky Morgan has dismissed claims that the government is planning to oblige secondary schools to divide pupils into ability groups.
She told MPs there was "absolutely no truth" in suggestions that Ofsted would be asked to promote such "setting" into ability groups.
Setting means dividing pupils into ability groups for separate subjects.
Head teachers had warned that they would be against political involvement in such "professional decisions".
'Closing the gap'
A senior Liberal Democrat source also distanced the party from any such proposal.
"This has not been agreed by the Liberal Democrats and is not government policy. We do not think it would be appropriate to tie schools' hands in this way."
The Guardian newspaper reported Education Secretary Nicky Morgan would call for secondary schools in England to be required to teach pupils in different classes depending on their ability.
"Setting" means pupils are taught in separate ability groups for individual subjects - unlike "streaming" in which year groups are divided across all academic subjects.
The suggestion had been that Ofsted would be used to implement this by making the use of setting obligatory for schools to be graded as outstanding.
The idea of compulsory setting had provoked a negative response from the ATL teachers' union.
"If Nicky Morgan is committed to closing the gap for disadvantaged children, the last thing she should do is to divide children into ability sets and to use Ofsted to enforce this," said Ms Bousted, the union's general secretary.
"This is educationally unjustifiable. The evidence is overwhelming that this practice holds back poor children, denying them access to an appropriately demanding curriculum."
School autonomy
But the head of Ark Academy in Wembley, Delia Smith, said: "We use setting at our school as the best approach for both teachers and students.
"Setting by subject is the best use of resources to focus teaching on individual children's attainment and ensure they are getting the appropriate challenge.
"When you have a student who may be struggling, setting can enable you to provide additional resources like teaching assistants or bespoke tools to support them to achieve their potential.
Head teachers' leader Brian Lightman said "professional decisions like this should be left to teachers".
"If schools are already achieving high standards within a mixed ability context, it is surely wrong to make them change because of a political whim."
"There is a complete contradiction in terms of policy. The government promised autonomy, which means trusting teachers. Telling schools how to organise their classes completely flies in the face of this.
"The evidence shows that setting is not always effective and should be used carefully."
Labour's shadow education secretary Tristram Hunt had called on the education secretary to reject political involvement in such school decisions.
"I believe that excellent heads and great teachers know better than Westminster politicians how to deliver the best schooling for all pupils.
"We thought there was political consensus on the importance of school autonomy.
"It is worrying to see an education secretary two months in the job thinking she knows best how every school should teach every subject."