'Half of state school teachers face pupil aggression'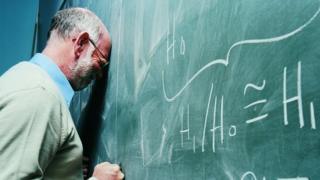 More than half of UK state school staff have faced aggression from students in the past year, suggests research.
Of these, 45% said they had faced physical violence, according to a survey of members of the Association of Teachers and Lecturers.
Some 1,560 staff responded to a survey of ATL members at the end of last term.
ATL general secretary Dr Mary Bousted said the daily reality of poor behaviour was "shocking".
Of the staff who completed the survey, almost 57% said they had faced aggression from students and over a quarter (27%) from parents or carers.
Some 40% of respondents have considered leaving the profession because of poor behaviour.
Pushing and shoving
Of those who said they had faced aggression, 84% had faced verbal insults, 70% threats and 45% physical violence - usually pushing or shoving but other staff reported being kicked, punched or hit with objects such as pieces of furniture.
Some 52% said behaviour had worsened over the past two years. Almost 80% believe this is because society has become less respectful of professionals in frontline jobs.
Some 60% have lost confidence in their work, others report suffering stress, anxiety or depression, while a third have refused to continue teaching the pupil concerned.
Sharon Lee, a primary teacher in an academy in Surrey said: "In the past two years I have had two children permanently excluded from my class due to violent behaviour towards others.
"Both cases were linked to mental health issues, and it seems that we are experiencing more children struggling with these than ever before."
With regard to the way their school or college dealt with issues of aggression, some 37% said they were totally happy and a further said they were "partially happy".
However, others were not. One teacher said a pupil had emptied the contents of a syringe into her face and ran off.
"The pupil was in school the next day and wasn't even asked to apologise."
A senior member of staff at a London academy said: "Being sworn at seems to be relatively normal."
'Abusive parents'
Some 40% believe the behaviour of parents or carers has also worsened.
A teacher in a primary school in Devon said: "You need to be a 'tough cookie' to deal with abusive parents. I found it a challenge to ask a father to leave because he was swearing at staff in front of nursery children, but the other parents stayed on to make sure I was OK and looked out for me."
Dr Bousted said the vast majority of students were "well-behaved and a pleasure to teach", but said "many students have chaotic home lives that would cause most adults to lose their temper occasionally."
She called for firm and consistent discipline policies in all schools.
The survey was carried out by ATL in conjunction with ITV regional news.