VIP students 'arrive by helicopter'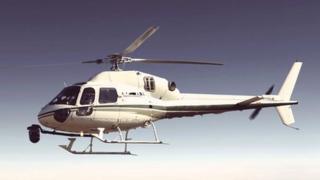 Students wanting to make a memorable impression on their first day at university are being offered a VIP arrival service, such as travelling by helicopter, private jet or Rolls Royce.
It promises an entrance "enviable of movie stars and premiership football players".
Whether it will make students popular or socially shunned remains uncertain, but the packages can cost £25,000.
The National Union of Students said it was "incredibly out of touch".
The days of students piling everything into their parents' car and heading off to their new university had changed, said the spokeswoman for the "Very Important Fresher" service.
Luxury image
There are now students who want to present themselves in a more luxurious fashion, she said.
But Megan Dunn, vice-president of the National Union of Students, said such a service was out of touch with "the lives of the majority of students".
"Many students starting university this month are facing a cost-of-living crisis, with available financial support in loans and grants failing to keep pace with spiralling bills for basic essentials, before they can even start thinking about forking out thousands of pounds for something as simple arriving at their halls of residence."
But Paul Stewart, co-founder of Uni Baggage, the firm offering the service, said: "The aspirations of students are continually changing and the need to make that all important first class impression is more paramount than ever."
The "transport options", on the way to three years of rigorous academic study, include a private jet, helicopter, Rolls Royce, a range of upmarket sports cars or a horse and carriage.
Assuming that university halls do not all have their own helicopter landing pad, it might mean landing at a nearby location and then taking the final stretch in a luxury car.
Instead of looking at the cost of a student rail card, a student booking a helicopter and Aston Martin would have to pay £20,000.
Arriving in such a style might not exactly make a new student universally popular, but the spokeswoman for the service said that it reflected the changing image of student life.