Trip to beach 'a pipe dream' for poorest families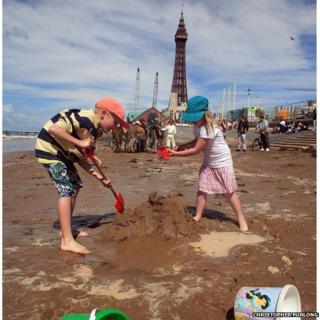 One in five families in England will be unable to afford a trip to the seaside this bank holiday, says Barnardo's.
The charity calculates a "no frills seaside trip" could cost a family with two children as much as £170, depending on where they live.
It wants the government to "act urgently" to boost the incomes of the poorest fifth of families.
The government said its welfare reforms would make three million households better off.
Researchers looked at the cost of the cheapest train fare to the seaside for a family or four, booked two weeks in advance, from a range of cities and county towns.
They also included the cost of the cheapest sun cream, ice cream and fish and chips.
How much is a trip to the seaside in 2014? (figures from Barnardo's)
From
To
Cost
Aylesbury
Bournemouth
£172.20
Leicester
Skegness
£127.40
Birmingham
Rhyl
£117.40
Sheffield
Cleethorpes
£91.20
York
Scarborough
£80.80
Manchester
Blackpool
£77.00
London
Southend
£60.15
Durham
Seaham
£58.70
Newcastle
Whitley Bay
£45.40
Bristol
Weston Super Mare
£40.80
The seaside is traditionally considered cheap, but travel is expensive, particularly when the family budget does not stretch to a car, says Barnardo's.
Families in Aylesbury would pay £172 for a trip to Bournemouth, Londoners would fork out £60.15 to go to Southend, Mancunians £77 for Blackpool, while those in Bristol would spend over £40 to go to Weston Super Mare.
Sun cream would cost £4.90 for the day, ice-cream £1 a head, while fish and chips, including children's portions could be anything from £14 to £22.
Drawing on official statistics the charity says the poorest fifth of families, with weekly incomes of £423 or less, can barely cover basic living costs, let alone a trip to the beach.
It says the poorest have been hit by rising living costs and welfare cuts, including measures to break the link between benefits and inflation.
It wants the government to restore this link and ensure low income families keep more of their earnings when Universal Credit is rolled out in coming months.
Barnardo's chief executive Javed Khan said: "Whatever the weather, a day at the seaside with the family is a day to treasure.
Sandcastles
"It is an opportunity for children to spend a healthy, happy time and experience a British cultural tradition; to play on the beach, splash in the sea and build sandcastles. It is an opportunity every child should enjoy.
"The Prime Minister has put family life at the heart of government and promoted the 'staycation'. Yet for hundreds of thousands of families struggling to make ends meet this weekend, a trip to the pier is but a pipe-dream."
A spokeswoman for the Department of Work and Pensions said changes to tax and benefits would help improve families' financial security with measures to increase the tax-free personal allowance and freeze fuel duty and council tax.
"Our welfare reforms will further improve the lives of some of the poorest families in our communities with Universal Credit making three million households better off and lifting up to 250,000 children out of poverty.
"We continue to ensure there is a safety net in place, spending £94bn a year on working age benefits to support millions of people who are on low incomes or unemployed so they can meet their basic needs."
Mothers on the parenting forum Mumsnet had advice on how to cut the cost of seaside trips.
Catherine from Birmingham, whose children are now 12, 15 and 18, suggested looking for coach trips organised by community groups and children's centres and booking well in advance to find cheap train fares.
Others said taking picnics could save a fortune: "Sand in your sandwiches makes great memories".