GCSEs: What's different this year?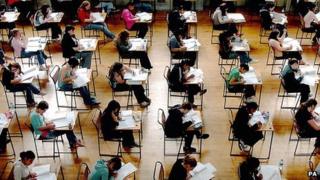 Changes to the GCSEs this year have led to England's exams regulator, Ofqual, predicting a higher degree of variability in results - so what's making the difference?
A return to end-of-course examinations
The biggest change in GCSEs this year was the return to linear exams - with all pupils sitting their tests in the summer at the end of the two-year course.
Students have no longer had the option to take exams on the parts of the qualification at several points during their courses because so-called modularised GCSEs have been scrapped.
There are a number of views on what impact this will have.
Many see the return to summer-only exams as toughening the qualifications - more knowledge has to be remembered all in one go. And with pupils sitting numerous subjects, it has been a congested exam timetable for many pupils.
Some people see the removal of all those bitesize bits and pieces of learning that characterised the modular system as an opportunity to engage in some deeper teaching and learning of the syllabus.
Some coursework remains but it has been limited.
Changes to GCSE English/English language
The major change here is that the results of the speaking and listening part of the qualification do not now count towards final English/English Language GCSE grades.
In the past this part of the qualification has been assessed by teachers and there were claims in 2012 of a high degree of inconsistency in the way teachers in different schools marked the assessments.
Ofqual's answer was to remove it from the overall result. However, candidates still have to take a speaking and listening assessment and the results of this will be reported alongside a student's final result using grades 1-5.
The balance between exam and controlled assessment (where candidates complete work in a controlled class environment) has also been changed.
Written exams will count for 60% of the English GCSE while controlled assessments will count for 40%. It used to be the other way round.
English is particularly important to schools because it was one of the key subjects it is measured by in league tables.
What about early entries?
Changes to the way GCSE results are measured in school league tables have discouraged schools from entering children early for their exams.
This step was taken because data suggested that entering pupils for GCSEs earlier was not generally in their favour and the earlier they entered, the less well they did.
Many schools entered many Year 10 pupils - those in their first year of GCSEs - for certain subjects such as English and maths for a variety of reasons, including allowing pupils a couple of goes at the exam and giving potentially wayward students more of a focus by testing them earlier.
But with only the first crack at the exam now counting for school accountability measures, there has been a huge drop-off in early entrants.
The overall number of entries from students in Year 10 and below fell by 40% on the previous year. Some experts believe this change could lead to a slight rise in grades overall as many of the poorer candidates will not sit the exams inappropriately early.
What does Ofqual say about all this?
The chief exams regulator Glenys Stacey says her watchdog's priority is to maintain standards between one year and the next. Students must not be unfairly advantaged or disadvantaged by a change in the syllabus.
Its approach is that if a group of students taking a qualification in one year is very similar, in terms of ability, to those who took it the previous year, then results would be very similar overall.
But the changes outlined above mean that both the examinations and those taking them are different.
Ofqual says this means results are likely to look different from previous years. However, Ms Stacey insists schools and parents can be sure that standards have remained the same.
However, she does acknowledge that there is likely to be variability in results at the school level.