Clearing places 20,000 students in degree courses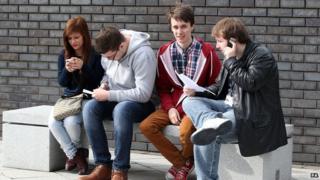 More than 20,000 students found degree places through the clearing system over the weekend, according to Ucas, the university admissions body.
Ucas says Clearing has been particularly busy this year with 11% more people placed than last year.
The total number of undergraduates due to start their courses this autumn now stands at 440,130, up 14,000 or 3% on this point last year.
Ucas chief executive Mary Curnock Cook said there was still time to apply.
So far 27,620 students have found places through clearing since A-level results were published on Thursday.
Encouraging
Of the 20,000 who were placed over the weekend, some 18,540 did not meet their required results for their original university offers.
Ucas says it also found places for some 1,800 applicants who decided to apply after receiving their results.
Ms Curnock Cook said she was particularly encouraged by this figure and urged more people to follow suit.
She added she expected the clearing system to continue to be busy on Monday: "In recent years we have placed around 10 people per minute throughout the working day.
"There is still time to research options and contact universities and colleges to get a place for this autumn, even if you have not applied earlier in the year."
Clearing will be open until the end of September for new applications and until the end of October for people who already have an application in the system.
Ucas says it expects the number of students starting undergraduate courses this autumn to top half a million for the first time.
Of those already placed there are over 20,000 students from disadvantaged backgrounds - a rise of 8% on this time last year.
The government has made 30,000 more university places available and lifted the limit on the numbers of students that universities can recruit with an A and two Bs at A-level.