UK university students set up to 'fail' by pricey digs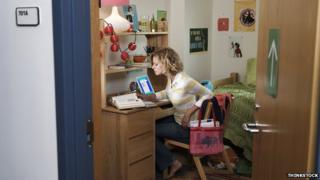 University students in the UK are being "set up to fail" as accommodation costs leave them with as little as £40 a week to live on, a charity has warned.
The Money Charity said many students were being forced into work just to afford housing, based on a survey of 150 universities.
It called for the government to set up an official body to ensure the allowance was "enough to live on".
Britain's students are facing a "cost of living crisis", agreed the NUS.
Not 'pocket money'
The charity said halls provided by the university were "not cheap", at around £420 a month outside London and £554 per month in the capital.
But it said many students were allocated rooms "far more expensive" than the basic rate and warned that students should choose their university based on location and course rather than the price of halls.
At some universities, the cheapest rooms took up two-thirds of the maximum available support, it said.
Parents of students on minimum support, who are expected to contribute towards their children's living costs, may not realise the support they give is for accommodation rather than "pocket money", said the report.
Student loans companies and the government should explain to parents "clearly and at the earliest stage possible" how much they are expected to contribute, so they can plan ahead, the charity said.
'Scandalous'
Regular research should be done to assess the cost of living, to make sure the levels of maintenance loans and grants were set appropriately, it added.
Student finance and university accommodation should be paid monthly, rather than three times a year, which the majority of universities do, said the charity.
Paying monthly would make the move to working and paying rent after university easier, it said.
Michelle Highman, chief executive of the Money Charity, said students from low-income backgrounds would have to work or rely on credit "just to get by".
"That is scandalous enough," she said. "But the issue runs deeper than that, and affects students from households at all levels of income.
"If even the maximum student support available doesn't cover the cost of student living, then students who receive less than this need their parents to contribute, potentially to the tune of thousands of pounds a year."
Payday lenders
She said students either had to "bear financial pressures" at the start of the time of financial independence, or face dropping out.
A spokesperson for the National Union of Students said loans and grants were failing to keep pace with "spiralling bills for basic essentials".
"Those who do not have the rare luxury of resorting to the 'bank of mum and dad' are increasingly being driven to work full-time alongside study where jobs can be found.
"Or worse still into the arms of predatory payday lenders just to make ends meet."
A Universities UK spokeswoman said universities had invested in new and refurbished accommodation to meet student expectations.
She added: "It is very important that a student's lack of access to funds at the start of their course does not present a barrier to entering higher education, and that students can meet their costs of living."
A special panel was currently reviewing the design of student fees and loans, and the results would be ready in spring 2015, she said.