A-level grades edge down, as university places rise
By Sean Coughlan
BBC News education correspondent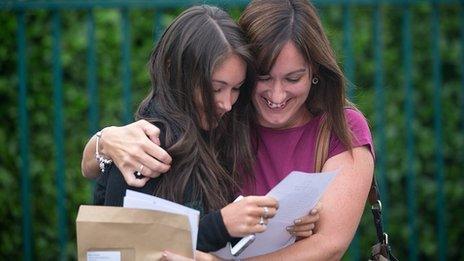 A-level grades have edged down this year, as pupils in England, Wales and Northern Ireland receive their results.
There has been a slight fall in A* and A grades and the pass rate is down for the first time in over 30 years.
But there are a record number of university places available and students could still get places even if they miss their grades.
Education Secretary Nicky Morgan says the government is "lifting the cap on aspiration".
Exam officials say the results of this year's A-levels are broadly "stable". But for the third successive year the A* and A grades have fallen slightly - down from 26.3% to 26%.
A-level results
26%
received grade A or A* - down 0.3 percentage points
98%
overall pass rate - down 0.1%
8.2% received A* - up 0.6%

32 years since pass rate last fell

8.5% of boys achieved A*, compared with 7.9% of girls
PA
There were also marginal falls in the proportion of entries in the A* to B grades. But the very highest A* grade has risen from 7.6% to 8.2%.
For school leavers planning to go to university, this could be an unusually good year to apply, with a "buyer's market" in which universities are competing to attract students.
A student contacting the BBC had achieved two C grades and a D, but had still gained a university place for which the original offer had been three grade Bs.
It could also mean students who have achieved higher grades than expected "trading up".
Umar Burhanudin, a student at City and Islington College, achieved two grades As and an A* and says he is going to shop around for a "higher-ranking university".
There are an extra 30,000 university places available and it is expected that for the first time over 500,000 places will be allocated for courses this autumn.
Universities continue to have a flexibility over recruiting students who achieve AAB grades or better.
The Ucas admissions service says that so far 396,990 students have been accepted on degree courses at UK universities - up 3% compared with this point last year.
Universities Minister Greg Clark says the expansion in places is an "important source of social mobility".
The Joint Council for Qualifications, issuing the results, said there was a trend for more students to take so-called "facilitating subjects" at A-level, such as maths and physics, which can help university applications.
Maths is now the most popular A-level subject.
But there have been big falls in the take-up of subjects outside this mainstream group, such as a 47% drop in critical thinking and 24% fewer entries in general studies.
Nick Foskett, vice-chancellor of Keele University, says students will have more options than in previous years, even if they do not get their expected grades.
"More students are likely to be accepted into their first choice, even if their grades are slightly lower than universities requested," said Prof Foskett.
"Many universities that have plans for growth will be using this year to expand their numbers, so will be keen to accept students that may have been rejected in previous years."
The Ucas admissions service says initial figures show a 2% increase in students getting their first choice place.
The Russell Group of leading universities has indicated that there will be more flexibility than usual.
"Some Russell Group universities may still have places available in some subjects for students who have done better than expected," said the group's director general, Wendy Piatt.
"There may also be places available for highly-qualified students who have narrowly missed out on their first choice."
More universities than usual are expected to take part in the clearing process, which matches students looking for a place with any available courses.
For students doubting the accuracy of their grades, the Information Commissioner's Office says they have a right to see how their exams were marked. This is an addition to the exam boards' appeals process.
This year's results included the first A-level grades from a free school, the London Academy of Excellence, with 43% of pupils achieving top grades of A* and A.
Labour's shadow education secretary Tristram Hunt said he would scrap the government's plan to remove the link between AS and A-levels. This de-coupling of the exams would limit young people's "opportunity to realise their full potential", said Mr Hunt.
The CBI's director general John Cridland said after so much concern over grade inflation "we should not beat ourselves up if grades and overall passes don't go up each and every year".
But Mr Cridland raised concerns about the continuing decline in students taking modern languages.
Head teachers' leader Brian Lightman said this year's results were a "real good news story".
"It shows how hard students and teachers have worked in the face of changes to exams to achieve results that are as high as ever."