Squeeze on playgrounds as schools tackle places crush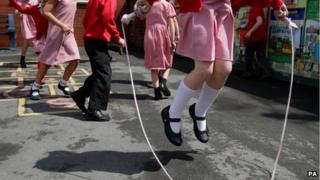 Pupils in a third of expanding primaries could end up with less space to play in as new classrooms swallow up fields and playgrounds, it is reported.
A survey of 82 of England's councils by the Times Educational Supplement suggests 335 of the 957 expanding primaries it received information on are losing outdoor space.
More pupils will use the same area in 54% of these schools, the survey says.
The government says it has tightened rules on building on playing fields.
The figures come amid continuing concern about a squeeze on school places, particularly for primary-aged children.
New places created
This has been fuelled in part by a rising birth rate.
Many schools have had to take in extra classes, building temporary classrooms to accommodate the extra pupils.
The TES calculated that if the figures were extrapolated to the whole of England, it would mean 213,750 children would have less space per head in their schools.
Last year, a study by the National Audit Office (NAO) warned that by September 2014 an estimated extra 256,000 primary and secondary school places would be needed to meet demand.
Of these, 240,000 are required in primary schools, with more than a third needed in London alone.
The Department for Education has made about £5bn available to councils to create new school places, and 212,000 new primary places were created between May 2010 and May last year.
But the figures also show 102 schools are gaining space.
'Children need space'
David Burchett, operations manager for the charity, Learning through Landscapes, told the magazine that access to outside space was "incredibly important".
"Children need space. We appreciate that some schools are on restricted sites, but they should do whatever they can," he said.
"It would be unacceptable to say, 'Right, let's fit 60 children into a classroom where there's room for 30.'"
A DfE spokesman said: "We have brought in new regulations to make it harder for councils and schools to build new classrooms on their playing fields.
"They must apply directly to us for permission and our rules make clear that this should only be a last resort where there is a pressing need for new school places.
"We consider each case on its merits and permission will only be given if councils and schools satisfy us that suitable space is available so children can still play outside."