Priority school places for poorer pupils proposed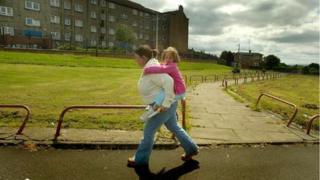 Schools in England could be allowed to prioritise places for the poorest children in their area, under proposals put forward by the government.
Under a draft admissions code, children eligible for the pupil premium would have first choice on school places.
The pupil premium is extra money given to schools to help improve the attainment of disadvantaged pupils.
In 2014-15 it will be worth an annual £1,300 for primary school pupils and £935 for secondary school students.
Under the latest proposals, published for consultation, all state schools would have the freedom to give priority in admissions to youngsters who attract the funding.
Academies and free schools are already able to do this.
But this latest admissions proposal may prove controversial if wealthier parents struggle to get school places for their children.
Social mobility
The consultation says: "These changes are consistent with the government's social mobility agenda and will allow schools the opportunity to support the least advantaged in society in a practical way."
It says there will be no legal requirement for schools to prioritise pupil premium children and that it would be up to them to decide.
The document also puts forward a proposal to allow primary schools to give priority to pupil premium children who attend a nursery attached to their school.
But this suggestion caused concern among the private, voluntary and independent (PVI) nursery sector, which fears children in these settings will be put at an unfair disadvantage.
Chief executive of the Pre-School Alliance Neil Leitch said: "Parents of eligible children, who might have preferred to place their child with a local childminder or at a local PVI group setting, may feel under pressure to instead opt for a school-based nursery to have a better chance of securing a place at that same school later on.
"We are concerned that this is yet another example of the government pushing for a more school-focused early years system at the expense of the PVI sector, and about the potentially detrimental impact this could have on children and families."
'Fair allocation of places'
A spokeswoman for the Department for Education said: "Currently, only academies and free schools have the freedom to prioritise children eligible for the pupil premium or service premium [for the children of military personnel] or both.
"We want to extend this option to all state schools, and also give admission authorities of primary schools the option to prioritise children eligible for the pupil premium, who attend a nursery which is part of the school.
"These changes will improve the fair and open allocation of school places even further and ensure every child receives a first class education."
The new admission consultation comes a few weeks after schools minister David Laws said he was encouraged to see that some grammar schools were now using the pupil premium as part of their admissions criteria when offering places to pupils.
About 32 grammars are prioritising pupils on free school meals - a key measure of poverty - in their admissions, Mr Laws said in a speech, adding that the government would "fully support" any school that chose to change its admissions in this way.