Funding boost for music education in England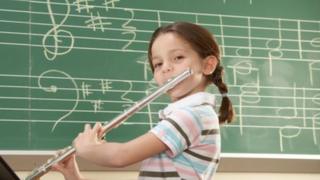 Music education for children in England is to receive an £18m boost in funding, the Department for Education says.
The extra money will be allocated to music education, including to the national network of 123 music education hubs established in 2012.
The news follows a report by Ofsted inspectors last November that criticised a lack of depth and rigour in school music in England.
The funding boost was welcomed by music and arts campaign groups.
Music education hubs were set up in 2012 as part of a national plan for music education.
They are made up of music trust staff, voluntary groups and private firms working in a local area, to create joined up music education provision for children and young people, both in and out of school.
The aim is that every child in England has the opportunity to sing and learn a musical instrument, and to perform as part of an ensemble or choir.
In the first year, the Department for Education (DfE) says, the hubs gave nearly half a million children the opportunity to learn an instrument for the first time and worked with almost 15,000 school choirs, orchestras and bands.
Disadvantaged pupils
The department said data published by Arts Council England showed that in 2012-13 (the first year of music hubs), nearly 80,000 disadvantaged pupils and more than 30,000 pupils with special educational needs took part in instrumental ensembles and choirs.
The DfE says the extra funding will mean thousands more disadvantaged pupils will have access to music lessons and enable hubs to purchase tens of thousands more instruments.
Education Minister Nick Gibb said: "No education can be complete without the arts and music playing a central role. That is why we established music hubs to replace a patchy service and ensure every child is given the opportunity to learn an instrument.
"Music hubs have made a very encouraging start - and now we want to build on that. That is why we are increasing funding by £18m. No children should miss out on the inspiration and excitement that music can bring to their lives.
"Music remains a statutory subject in the new national curriculum and we have reformed it to broaden pupils' experiences and make it more aspirational."
'Delighted'
Alan Davey, chief executive of the Arts Council England, said: "We're delighted at the increased opportunity it will bring to support all young people to enjoy music and develop their talents through a connected music education landscape.
"The Department for Education's £18m increase to music education funding is recognition of the important work of music education hubs to make sure that every child has the opportunity to be motivated and inspired by music.
"Specific allocations for 2015-16 for individual hubs will come later, but hubs can now plan confidently to build on their work so far with schools, local authorities and cultural organisations, to ensure a strong local music offer for children, as part of a broad and balanced curriculum."
Deborah Annetts, chief executive of the Incorporated Society of Musicians and coordinator of the Protect Music Education campaign, said she was "absolutely delighted" that the government had listened to her group's campaign to for better music funding.
"This is wonderful news for all children and young people," she said.
"This funding is a critical component in ensuring that access to music education is there and we welcome this decision by the new secretary of state.
"We now hope that all political parties will commit to music education funding until 2020 and that the Department for Education remove the damaging guidance to local authorities when they respond to the recent consultation."