Student loan system reaches 'tipping point', warn MPs
By Sean Coughlan
BBC News education correspondent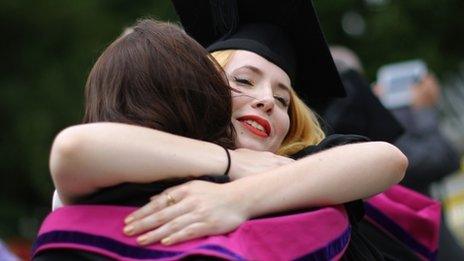 The student loan system has been so inaccurate in forecasting the cost to the taxpayer there must be an "urgent review", says a report from MPs.
There are so many problems that its "continued existence" is under threat, says a report from the Business, Innovation and Skills Select Committee.
The government loses 45p on every £1 of loans to students, says the report.
A business department spokesman said there was "no immediate pressure on the system".
Committee chairman Adrian Bailey warned of a "potential black hole" in the budget. But the spokesman from the Business, Innovation and Skills department said its costs were based on long-term projections which could "fluctuate" in the short term.
The increase in loans to students, driven by tuition fees of up to £9,000 per year, means that in 30 years the total debt will be £330bn, says the report.
But MPs are warning that there is insufficient control on how much is likely to be repaid - with the amount likely to be lost much higher than had been projected.
Students do not have to pay back until they are earning £21,000 and debts are written off after 30 years - and MPs questioned the efficiency of the Student Loans Company's collection process.
The report warns of a "worrying record of miscalculation" on how much the loans system is costing.
When fees were increased to £9,000, it was forecast that 28p would be lost for every £1 of student loans - but this latest report from MPs puts the figure at 45p.
"The government needs to get its act together and properly calculate how much of these student debts are ever likely to be paid back," said committee chairman, Mr Bailey.
"The government needs to set out a clear timescale for pushing ahead with a review of the overall student loans system because the alternative is an unfunded model which would leave students, universities and taxpayers with a very raw deal indeed."
Against such uncertainty about costs, the report asks how the government's promise to further expand university places will be funded.
The government says that it wants to remove the cap on student numbers, which the report says will cost £5.5bn.
There had been suggestions that the sale of student loans to the private sector could help fund this university expansion. But there have been claims that Business Secretary Vince Cable has blocked the sale.
A statement from his department on Monday confirmed: "There are no plans to conduct a sale during this parliament."
The select committee report backs the idea of caution over selling loans. MPs say that it would bring a "significant financial windfall", but the business department "has yet to prove" that such a sale represents good value for money.
But last month, former universities minister David Willetts told the BBC that the planned increase in student numbers was not dependent on such loan sales. Mr Willetts was replaced by Greg Clark in last week's reshuffle.
Wendy Piatt, chief executive of the Russell Group of universities, said if the government no longer intends to use the sale of student loans to fund the uncapping of student numbers, then "we would urge them to abandon this idea".
The Russell Group's concern is that extra students without extra funding would mean stretching university budgets too thinly.
Toni Pearce, National Union of Students president, said: "Forcing debt on to students as a way of funding universities is an experiment that has failed not just students, but our country.
"Politicians need to recognise that we will only achieve a sustainable higher education funding system if we abandon the discredited regime of sky-high fees and debts altogether."
A Department for Business, Innovation and Skills spokesman said: "The government is committed to ensuring that the taxpayer is receiving value for money and that is why we are continuing to work with the Student Loans Company on improving best practice and have already dramatically tightened the regime for recouping repayments from graduates both domestically and overseas."
Shadow Minister for Universities, Science and Skills, Liam Byrne, said: "Another day, another damning indictment of the government's failed tuition fee regime.
"They've burdened young people with a debt they cannot afford, and now the taxpayer is liable for £330bn over the next 30 years. This is unsustainable and the cross-party BIS committee is right to call for an urgent review into the sustainability of the student loan system."