England pupil numbers set to top eight million by 2023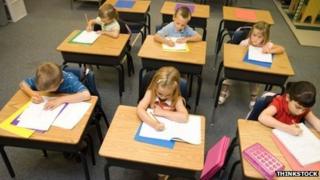 The number of pupils in England's schools is expected to reach its highest level in almost half a century by 2023, figures show.
The government estimates the number of schoolchildren will top eight million in the next nine years.
There will be an estimated 4.6 million pupils in state primary schools, 9% higher than in 2014.
Secondary pupil numbers are expected to start rising from 2016 - from 2.7 million to 3.2 million in 2023.
The hike in numbers had been fuelled by the birth rate broadly rising since 2002, government statisticians said.
The data suggests there will also be a further 106,000 pupils in special schools and 14,000 in alternative education provision by 2023.
'On track'
The Department for Education projections suggest there will be just over eight million youngsters in England's state schools by 2023, up almost a million from 7.1 million this year.
It is thought that the last time pupil numbers reached these levels was in the mid-1970s.
The new data comes amid a continuing concern about a squeeze on school places, particularly for primary-age children.
Last year, a study by the National Audit Office (NAO) warned an estimated extra 256,000 primary and secondary school places would be needed by September 2014.
Of these, 240,000 are required in primary schools, with more than a third (37%) needed in London alone.
A DfE spokeswoman said local councils were on track to create enough school places for this coming September.
She added: "Ensuring enough school places for the growing population is one of our top priorities.
"That is why we have more than doubled to £5bn the funding available to councils to create new school places, and are allowing good schools to expand without the restrictions and bureaucracy they faced in the past.
"This has already led to the creation of 260,000 new school places across the country.
"Under this government nearly 80% of new primary places created are in good or outstanding schools."
She added that 212,000 new primary places had been created between May 2010 and May 2013.
The Association of Teachers and Lecturers' director of economic strategy and negotiations, Martin Freedman, said the new Education Secretary, Nicky Morgan, would be judged on whether parents could get their children into a school of their choice and whether there were enough high quality teachers in those schools.
"The latest estimate that there will be almost a million more pupils by 2023 will make both of these areas much more difficult to manage," he said.