Graduation photographs offer 'digital slimming'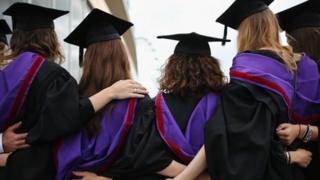 Graduation ceremony photographers are offering an extra service to digitally alter pictures to give students a slimmer look and to have whiter teeth.
Success Photography is offering graduates "digital slimming" and "smile enhancement" for an additional charge.
A statement from the photographers said it was about "reducing the appearance of the gown" and not the individual.
But students on Twitter criticised it as a "sad snapshot of society and why many people have such low self-esteem".
With tens of thousands of families attending graduation ceremonies, the photography package from Success Photography offers the option of a digitally enhanced version of the special occasion.
For an extra £9.95 pictures can be adjusted with "digital slimming".
'Unflattering'
"The traditional graduation gown is a mark of respect and achievement. However it can be bulky and unflattering. With advanced digital technology we can reduce the gowns appearance making it more fitting to your shape," says the photographers' website.
For a further £7.95, there is a "digital complexion and smile enhancement", which "removes all imperfections such as blemishes, redness and shine, leaving your skin looking smooth and healthy. We also enhance the whiteness of your smile".
Without these extras, the prestige framed graduation photograph costs about £125.
The firm takes photographs at a number of university graduation events across the UK.
But there has been a negative reaction from some students on Twitter - who linked the slimming option to the pressure put on young people to worry about their physical appearance.
There were claims that this was making "fake memories".
Others seemed taken aback by the offer of such changes to photographs
"Just booked an official graduation photo - very shocked by the digital slimming option! What is the world coming to..."