Ban B&Bs for young care leavers, say MPs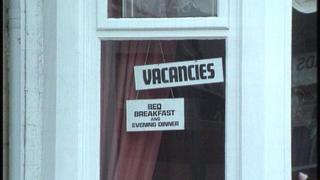 Young adults leaving the care system in England should be provided with regulated accommodation and not be placed in bed and breakfasts, say MPs.
The Commons Education Select Committee says B&B accommodation is "threatening and frightening" and should only be used in emergency situations.
MPs say these youngsters should not have to leave care until they are 21.
The Department for Education said it would take "tough action" where it found B&Bs were being used.
The MPs' report - Into independence, not out of care: 16 plus care options - suggests that the quality of preparation for a young person's transition from care to greater independence is "too often inadequate".
These adolescents must be "fully and effectively informed of their rights and entitlements", says the report, and given a genuine choice of accommodation available.
Bed and breakfasts
The MPs raise particular concern about stories of young care leavers being housed in bed and breakfast accommodation.
The DfE does not collect data on the number of looked-after 16- or 17-year-olds placed in B&Bs, but 22% of them are classified as living in "other arrangements".
The committee said informal discussions members had had with young people provided further accounts of the continued use of B&Bs for care leavers, sometimes for extended periods of time.
"One young person informed us that she had been living in a B&B for two years," the report says.
The report continues: "Statutory guidance is clear that B&Bs are unsuitable for young people in care and should only be used in very particular, emergency situations.
"Nonetheless, we are deeply troubled by the continued use of B&Bs. Far from being merely unsuitable, B&Bs can present an environment which feels unsafe and threatening to a young person."
Age 21
Last December, the government announced that children in care in England would be able to stay with their foster families until their 21st birthday, rather than having to leave at age 18.
The committee says a similar rule should be in place for young people in care in residential homes.
"Many young people are settled and thriving in residential children's homes," says the report.
"Young people living in residential children's homes should have the right to remain there beyond the age of 18, just as young people in foster care now have the right to stay put until the age of 21.
"We recommend that the DfE extends 'staying put' to residential children's homes."
The report also says leaving-care services should be extended to the age of 25, without exception.
'Shocking'
Chairman of the committee, Graham Stuart, said the MPs had launched the inquiry because of concerns about the level of care and quality of support for older adolescents.
Mr Stuart said looked-after youngsters moving towards adulthood deserved a "well-supported transition to independence rather than an abrupt push out of care".
"For too many looked after young people, their ambition to move to semi-independent or independent living at the age of 16 or 17 results in them being placed in accommodation that is neither safe nor suitable," he said.
"The lack of regulation and inspection for the range of accommodation used is shocking.
"The DfE asserts that B&Bs are not considered to be suitable.
"Their continued use shows that the current guidance is clearly inadequate.
"The message is plain: B&Bs are not suitable and should only be used in extreme, emergency situations and even then, never for more than a few days."
David Simmonds, chairman of the Local Government Association's Children and Young People Board, said: "Looking after vulnerable children is one of the most important things that councils do and is a responsibility they take incredibly seriously. Local authorities work extremely hard to make sure that all children in care are found suitable accommodation and are well looked after, and the vast majority of councils will only ever use bed and breakfast accommodation as a temporary solution to exceptional circumstances.
"The child's best interests must always be our central concern, and there will be times where emergency placements are required at extremely short notice. We must be careful to ensure that any ban on the use of bed and breakfasts does not leave vulnerable young people effectively homeless due to a lack of temporary accommodation.
"These cases are often extremely complex and take time to resolve in a way that offers the best long-term solution to the young person."
A spokesman for the DfE said: "We have also been clear that young people must not be placed in bed and breakfasts unless absolutely essential, and we will take tough action where we find this is happening.
"It is our priority to improve the quality of residential care and we have set out our plans to do this. We are working closely with the National Children's Bureau and the Who Cares? Trust to look at the practical issues of supporting young people to remain in homes until they are 21."