Postcode variation in school success, inspectors warn
By Katherine Sellgren
BBC News education reporter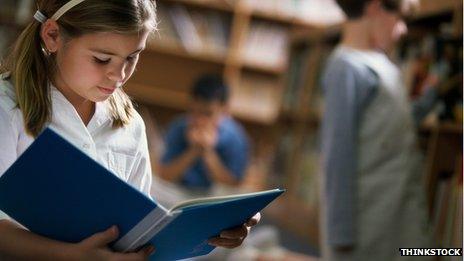 Pupils' chances of getting a good education in England still depend on where they live, inspectors have said.
An Ofsted report indicates "considerable variation" across local authorities in how many pupils achieve the expected level at ages 11 and 16.
The schools watchdog vowed to "focus its attention" on those areas failing to raise pupil attainment.
The study examined the use of the pupil premium - extra money given to schools to help disadvantaged pupils.
The funds are available for pupils who are, or have been over the previous six years, eligible for free school meals or in care.
In the academic year 2014-15, the government is allocating £2.5bn to the scheme. Primary schools will get an extra £1,300 per eligible pupil and secondary schools will get £935.
The Ofsted report said this meant an average-sized secondary school in England with an average number of eligible pupils would receive about £200,000 in extra funding - the equivalent of five full-time teachers.
The report, based on official data and inspection reports, concludes there is evidence the pupil premium is boosting the education prospects of many children.
It says that while it is still too early to tell if there has been a significant narrowing of the gap between rich and poor youngsters nationally, inspectors believe that school leaders are spending the extra money more effectively than ever.
The cash is most frequently being used to pay for extra teachers and teaching assistants who give individual help or small group tuition, usually in English and maths.
Ofsted boss Sir Michael Wilshaw said the improving situation could be down to the watchdog looking at how the premium was being spent as part of inspections.
Head teachers were also aware that they could not get a desirable Ofsted judgment if they did not show how they were improving the results of disadvantaged pupils, Sir Michael said.
But the report also warned that while some areas had seen major improvements in disadvantaged pupils' performance, others were improving too slowly.
"Although inspectors have seen large improvements in the attitude of school leaders and governors, there is considerable variation across local authorities in the proportion of pupils achieving expected levels at Key Stages 2 (end of primary) and 4 (GCSE level) and the rate of improvement from year to year," the report said.
Pupils who are eligible for free school meals in Barnsley, Portsmouth, South Gloucestershire, North Lincolnshire and Northumberland were least likely to get five good GCSEs, including English and maths, inspectors said.
Last year, about one in four premium-eligible pupils in these areas reached this benchmark, Ofsted said.
At the other end of the scale, Kensington and Chelsea, Westminster, Southwark, Tower Hamlets and Lambeth had the highest proportions of premium-eligible youngsters - about three-fifths - reaching this standard.
The report goes on to note that Barnsley had had the third lowest proportion of eligible children getting five or more C grades in 2012, and attainment had declined further to make it the lowest attaining authority in 2013.
It concluded: "It cannot be right that the likelihood of a child receiving a good education should depend on their postcode or economic circumstance.
"Government should focus its attention on those areas of the country that are letting poor children down. Ofsted will also focus its attention on these areas in subsequent reports to see if improvements have been made."
Sir Michael Wilshaw, said: "One of the greatest challenges this country faces is closing the unacceptable gap that remains between poorer children and their better-off classmates when it comes to educational outcomes.
"As chief inspector, I am passionate about improving the prospects of our least advantaged children, so I am encouraged by the clear signs in today's report that more effective spending and monitoring of the pupil premium is starting to make a positive difference in many schools.
"Ofsted, for its part, will continue to focus relentlessly on how schools are using this money to ensure these pupils don't get left behind."
Schools Minister David Laws said the pupil premium was transforming the life chances of pupils across the country.
"It [the report] shows head teachers, teachers and governors are rallying behind the policy to close the achievement gap between disadvantaged pupils and their peers. And where performance is an issue we are taking swift action to ensure all pupils are given the education they deserve."
Deputy Prime Minister Nick Clegg said: "The pupil premium has been one of the most significant changes in our education system for a long time and is already closing the attainment gap by helping up to two million disadvantaged children get the support, education and skills they need to get on in life - whether it's through literacy classes, catch-up lessons or one-to-one tuition."
Related Internet Links
The BBC is not responsible for the content of external sites.