Greg Clark universities minister as Willetts steps down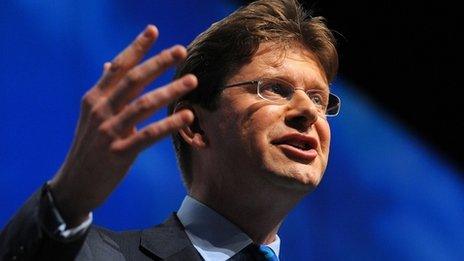 Greg Clark has become the minister for universities and science, in the cabinet reshuffle.
He will also retain his current job as minister for the constitution and cities.
The Tunbridge Wells MP replaces David Willetts, who has been universities minister from the outset of the coalition government.
Mr Clark will become responsible for plans to increase student numbers and scrap a limit on university places.
The coalition government has already announced there will be 30,000 extra university places this year and a further 60,000 extra places the following year.
The outgoing minister, Mr Willetts, had set out a policy of expanding university places as a way of promoting a graduate economy.
On his departure, Mr Willetts has received many votes of thanks from the science and higher education sectors.
"His support for science and research has been much appreciated, as well as his willingness to engage with our universities constructively," said a statement from the Russell Group of universities.
Mr Willetts had been minister during the controversial introduction of higher tuition fees.
More recently he had defended the system of student loan repayments, with claims that the higher fees and student loans had proved much more expensive for the government than anticipated.
There have also been suggestions from some universities that the current £9,000 fees limit should be increased.
University groups have set out some of the issues facing the incoming minister.
Steve West, chairman of University Alliance, said: "The coming months will be critical in thinking about the long-term sustainability and global positioning of UK higher education."
Pam Tatlow, chief executive of the Million+, representing new universities, said: "Few people believe that the government's current plan to fund higher education expansion on the back of the sale of £2bn of student loans really adds up."
She said that the minister would need a more sustainable funding settlement.
The Russell Group, representing leading universities, raised the issue of attracting overseas students.
"Ensuring that the UK is seen as open and welcoming to the brightest students from overseas is also crucial to the future success of our universities," said a Russell Group statement.