Gove urges teachers to call off strike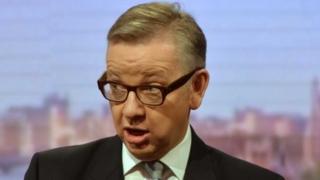 Education Secretary Michael Gove is calling on teachers to "reconsider" plans for a strike on Thursday.
The National Union of Teachers is staging a walk out which is expected to disrupt schools in England and Wales.
Mr Gove said they should "stand up for education" rather than "standing up for their own pay and pensions".
NUT leader Christine Blower says teachers "deeply regretted" striking but there had been no "serious negotiations" in talks with government.
The strike by teachers, over pay, pensions and workload, is taking place alongside walk outs by other public sector unions.
Pay and pensions
Mr Gove's comments on the NUT strike are to be delivered at an international conference on education reform in London on Thursday.
"So to those striking today - to those walking out of classrooms to take to the streets - I urge them to reconsider," Mr Gove will say.
"The unions, in the past, have claimed to 'stand up for education'. Today they're standing up for their own pay and pensions.
"I urge them to join all of us in this hall, all of us who are really standing up for education - putting education first and foremost - and the education of our most deprived children most of all."
But Ms Blower says teachers are being forced into going on strike because the government had failed to engage with their concerns, including disputes over performance pay and excessive workloads.
"We are aware that this causes problems and disruption for parents and carers.
"However, despite months in talks with government officials, the real issues of our dispute over pay, pensions and conditions of service have not been addressed."
Mr Gove's speech to the Education Reform Summit will be made alongside education ministers and experts from the US, Spain, the Netherlands, Portugal and Poland.
The conference will draw upon international examples of how education systems can be improved.
Mr Gove will say that in England the "status quo" is not good enough.
"Of course, any change to the status quo is difficult. Of course, people can be more frightened of what might be lost than inspired by what might be gained.
"But for years, for decades, our status quo has simply not been good enough. We can't and we mustn't keep going backwards - and failing the poorest above all."
He will say a "world class education" system would include more pupils taking core subjects at GCSE, collaboration between schools and a "drastic reduction in levels of illiteracy and innumeracy".