School libraries 'should be counted', say MPs and peers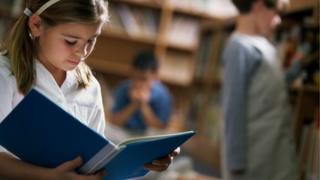 The Department for Education should collect figures on the number of schools in England that have a library and librarian, MPs and peers say.
A report by the Libraries All-Party Parliamentary Group (APPG) says Ofsted should examine school library provision when inspectors visit a school.
The group says school libraries are vital in helping children develop literacy skills and a love of reading.
It says every child should have access to a library within their own school.
In a report - The Beating Heart of the School - the group warns that "one of the most concerning trends" is the fall in the number of school librarians in England which dropped by 280 in the space of two years.
Currently, there is no clear picture as to how many schools have libraries or librarians, making it difficult to assess how services can be improved.
Under current rules, there is no statutory duty on schools to provide libraries, or library services, meaning that access to such a facility is down to headteachers' discretion, the report says.
It says school libraries have been under pressure in recent years, in the face of a continuing squeeze on budgets.
Research has previously shown that the quality of school libraries is variable, the group suggests, with more than a quarter of those operating in secondary schools open for only part of the day, and almost a third of the libraries having insufficient space.
And just 17% of secondary school libraries have enough computers or laptops for an average class.
The report adds that a survey conducted in 2012 found that 34% of secondary schools questioned had seen a cut in their library budgets, while 49% had seen a freeze.
Inspecting facilities
The APPG said that as a minimum, it was calling for all secondary schools in the UK to have a good library.
It is urging the Department for Education (DfE) to start collecting figures on the number of schools in England that have a library and librarian.
The department should also look at the contribution libraries make to a child's education and development, the report says, while Ofsted should look at the facilities as part of school inspections.
In a foreword, the group's chairman Lord Tope, writes: "I believe that school libraries and librarians contribute an enormous amount to educational attainment, but the case must be strengthened.
"We need to know how many schools have a library and librarian, currently we do not. We need to understand more fully the positive impact that school libraries have on children's literacy skills, education and well-being."
'Exciting books'
Lord Tope said: "We must make sure that children in our schools are encouraged to read, have access to exciting books and reading materials, and are taught research and digital literacy skills.
"If every school has a well-resourced, properly staffed, fit-for-purpose library that is a key part of their strategies it will make a huge contribution to young people's educational attainment."
Director of the School Library Association, Tricia Adams, said: "It is wrong that children across the UK have such unequal access to books and reading materials and often do not have sufficient choice.
"Children need choice so they can explore and find new books and authors that fire their imaginations and start a love of reading for life."
Schools Minister David Laws said: "Reading for pleasure and study has a well-documented positive impact on children's educational attainment across the curriculum.
"Reading develops literacy skills, which improves children's chances of achieving their potential in life. The availability of a wide range of books and encouragement to read at school and home will help this happen.
"The school library is an incredibly important way to ensure that children have a good choice when choosing books, a dedicated space for reading, and effective encouragement and stimulation from librarians to develop their literacy skills.
"I welcome the interest the Libraries All-Party Group is taking in this important subject."