Cybersecurity: Your country needs (200,000 of) you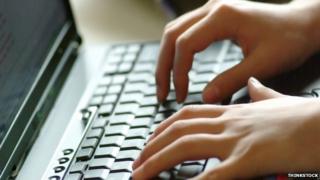 A government-backed Open University course will aim to inspire 200,000 people to take up careers in cybersecurity from September this year.
The course marks the latest step in a campaign to recruit talent to help protect people from cybercrime and stop internet attacks.
There are estimated to be billions of cyber-threats to the UK from around the world every day.
The world of technology is advancing faster than ever and the arms race between computer hackers and cybersecurity workers rages on.
But according to some experts, the hackers are currently leading, sparking a call for young people to work in the field.
'Fast-paced' industry
Natalie Black, deputy director at the government's Cyber Defence and Incident Management office, says the new course is set to start at the Open University in autumn this year.
"The objective has to be about increasing skills in the UK generally, and about having the right skills across the board," Ms Black said.
She says the introductory course would last for eight weeks.
Ms Black says the move is part of a push to promote cyber-skills, for example through computing GCSEs, which include coding, to keep up with "how fast tech is moving".
Careers in cybersecurity are fast-moving, and provide an opportunity to be "creative and cross borders, internationally", she says.
And on an individual level, "everyone needs the basic understanding of cybersecurity at home or at work," she says.
A recent report in the UK said Britain has a skills shortage in this area, not least because too few people are aware of cybersecurity as a profession.
'Quite wrong'
Experts warn that the UK is at a disadvantage globally and it could take 20 years to address the skills gap.
The police, intelligence agencies and companies all need skilled workers to help protect them, and fight any attacks.
Bletchley Park was the home of codebreakers during World War Two, who have been credited by some with reducing the duration of the war by as much as two years.
It is launching a summer exhibition to educate schools about cybersecurity and encourage an interest in careers in computing.
Betty Webb worked at Bletchley Park during World War Two. She says part of her job was to register the "never-ending messages" which came in at a rate of 10,000 a day.
She calls for women to consider careers in cybersecurity, through education, as she said there "is a real need".
"When we were here we were told that women couldn't be codebreakers. They got this quite wrong," she says.
"Girls should find out about the work of cybersecurity and make sure they are getting ideas as to what sort of course to go on," she says.
Issues around cybersecurity are never far from the headlines.
'Bedroom' cybercrime
Last year, US-based Target, a supermarket and clothing store, had the payment details from 40 million credit and debit card numbers stolen.
Risks range from viruses on computers, spam emails, fraud, denial of service, to whole computer systems being shut down.
There is also an increasing trend for hackers to lift personal information and put it on websites, demanding a ransom to take it down, or to take hold of computers and demand payment to stop it.
And the range of opportunities for jobs protecting people against such threats is on the up.
McAfee, a computer security software company, says cybersecurity threats cost around 1.7% of the world's GDP every year.
Ukraine, Israel and the US are all getting ahead with the technologies and skills to protect against threats, it said.
Samantha Humphries-Swift, McAfee labs manager, says new recruits need analytical, logical minds, maths skills, and an interest in computing.
"There is a shortage of skills," she says. "And the number of attacks is increasing. You can be a cybercriminal and conduct a crime without leaving your bedroom."