Teach First expands into poor rural and coastal areas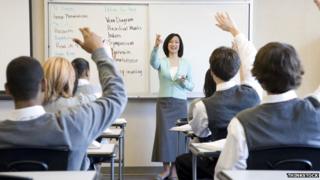 Educational charity Teach First will expand into England's coastal and rural areas, including Weymouth, Bournemouth, and Great Yarmouth.
It will include schools that are below average for education, as well as being in economically deprived areas.
The charity's teachers could be placed in 220 new secondary and 559 primary schools from September 2015.
The move follows Ofsted's warning about "invisible" poor children in market towns and seaside resorts.
Coastal 'challenge'
Ofsted said the children were behind their counterparts attending schools in big cities.
Teach First said all existing schools would remain eligible, but that there would be 10% more schools on the south coast and 6% more schools in the east of England and Yorkshire respectively.
The teaching scheme was launched in 2002 and aims to recruit talented graduates to teach in deprived areas.
Previously, eligibility was based on financial hardship, but now the level of performance of schools is being considered as well.
Thirty-six per cent of secondary schools will be eligible to apply for Teach First teachers, and 32% of primary, from September 2014.
The charity said new schools which had not previously been eligible could approach it to place Teach First teachers in their schools from September 2015.
Sam Freedman at Teach First said they had seen "significant improvements" across many schools in England and Wales, especially in London and "other big cities".
But he said a "number of challenges remain particularly in coastal and rural areas".
Deprivation 'exacerbated'
Mr Freedman added: "Many vulnerable families are located in these areas, but without the same opportunities and networks available as in cities, exacerbating the effects of deprivation."
He said the move would help England's young people "fulfil their potential".
Schools minister David Laws said he "welcomed" the change, especially in relation to schools in urban and coastal areas.
He added: "We will continue to support Teach First's approach which builds on expertise developed through their work with disadvantaged schools in urban areas, in particular the London Challenge.
"It is important for as many schools as possible to access this high-quality provision."