State v private split in students going to Oxbridge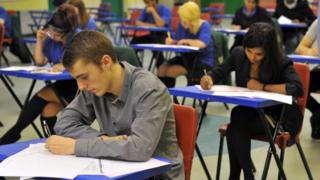 The first official breakdown of England's public and state school-leavers' destinations shows a strong divide between the two.
One in 20 students from private school went on to study at Oxford or Cambridge University in 2011, as against one in 100 from state school, statistics show.
State school sixth form colleges also differ greatly in their performance.
Salisbury's Sarum Academy sent 13% of its students on to university, compared with 95% at Reading School.
'Colleges must deliver'
But in general, the number of state school A-level students who either went on to study at university, got a job, or went into further vocational training, was up to 74% from 69% between 2010 and 2011.
And 5% more state school pupils also went on to higher education between 2011 and 2012, at 53%, compared with 48% for 2010 and 2011.
The statistics, released by the Department for Education, allow parents to look at the performance of their child's school.
On average, 11% of state school students went to Russell Group institutions, the most select of UK university groups, compared with 38% of independent school students.
The figures come in the same week as Ofsted said state schools are lagging behind private schools for competitive sport, which it said also damages their academic performance.
Schools minister David Laws said it was "right" parents should have "as much information as possible" to decide on their children's education.
Mr Laws added: "Some students will be aiming to get a job after college, others will be hoping to win a place at a great university.
"But all schools and colleges must ensure they deliver for all their students, whatever that student's target."
'Work to do'
He said many schools were "excelling", such as Mossbourne Community Academy in London's Hackney, which sent 7% of its pupils to Oxbridge between 2011 and 2012.
Mr Laws said the school was one of England's "top state performers", adding Hackney was "one of the most deprived areas in the country".
Prof Les Ebdon, director at Fair Access to Higher Education, said: "As a whole, the sector has seen sustained improvements in the last decade in the number and rate of disadvantaged young people applying to and entering higher education."
He said in 2014 the rate of students from disadvantaged backgrounds applying to enter higher education was "at its highest level ever".
Prof Ebdon added: "However, there is still much work to be done - especially to address the stubborn gap between the numbers and rates of advantaged and disadvantaged students at highly selective universities."