Transformed schools 'drive London success'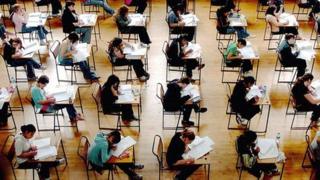 The "dramatic improvement" of exam results in London has been driven by improvements in schools and not changes in the pupil intake, say researchers.
A study has been examining how state school pupils in London, including the disadvantaged, get much better results than anywhere else in England.
Researchers say that the transformation of London's results is now providing an international role model.
Tony McAleavy, research director, says it could be "replicated elsewhere".
The study, Lessons from London's Schools, examines how the capital's education system has gone from being considered a failure to a beacon of high achievement in little more than a decade.
Exam results and Ofsted inspections now show state schools in London as higher performers than anywhere else in England.
Performance data
The research, from the CfBT Education Trust, says there is no single "magic bullet", but improvements are the result of four overlapping initiatives.
These are identified as:
London Challenge, which provided targeted support and advice for schools
the growth of academies
the improved support of local authorities
the impact of Teach First, which recruited young graduates to teach in disadvantaged schools
Mr McAleavy says these initiatives helped schools to become more focused, better organised and to make better use of data to track the progress of pupils.
The report says that the difference has been better schools and not the changing population of London.
The increasing concentration of wealth and better educated parents was not the driving factor for the improvements in results.
Mr McAleavy says that the changing fortunes of London schools has not been about improvements in any particular ethnic group - as all ethnic groups have been on an upward trend.
The research argues that the improvements have been about changes to the school system - rather than the intake.
And the report says this provides some lessons for others wanting to apply the same model.
These include:
the systematic use of performance data
intervention when schools are underachieving
introducing new types of education provider
making teaching attractive to talented and ambitious young graduates
'Professional ethos'
Ben Rogers, director of the Centre for London think tank, which also supported the research, said: "As our analysis shows, the improvement did not come about by accident.
"Schools got better because policymakers, school leaders and ordinary teachers developed a sense of shared mission, and a stronger professional ethos."
Brett Wigdortz, chief executive of Teach First, said: "This excellent report confirms that one of the most fundamental factors for ensuring fair educational outcomes for children from disadvantaged backgrounds is the quality of teachers and leaders in schools.
"A decade ago London was one of the worst places to be born into a low-income family in terms of educational outcomes.
"This has been transformed in only a few years.
"Unlocking why London schools have improved against the odds should be a priority for the education community because it proves there does not need to be a gap between young people from low-income communities and their wealthier peers."
This is the latest attempt to explain the rapid improvement in London's schools.
Earlier this week the Institute for Fiscal Studies published a report arguing that improving results in secondary school were a long-term consequence of earlier improvements in primary schools.
It identified the introduction of specific programmes to improve literacy and numeracy in the late-1990s.