'Lack of challenge bad for pupils'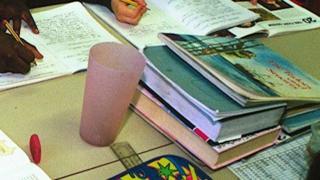 Teachers who focus on making lessons accessible and relevant risk producing pupils who cannot think for themselves, a leading head teacher has said.
"If it's too easy, there is little gained," North London Collegiate School head Bernice McCabe told the Prince's Teaching Institute Summer School at Cambridge University.
The conference aims to reconnect teachers with their academic roots.
Ms McCabe said pupils "learn to think for themselves if you show the way".
"Teaching is a matter of leading your pupils to higher ground, till they have the confidence to continue climbing by themselves," she told teachers.
'A better view'
"The challenge is in proportion to the steepness of the gradient - but the higher you climb, the better and the wider the view."
The risks of challenging pupils "are no greater, and in human terms much less, than playing safe, limiting the options and submitting to the tyranny of league tables and performance targets", she added.
Mrs McCabe quoted last year's Ofsted report on music teaching in primary schools, which said too many viewed musical notation and classical music as too difficult for pupils.
"Sadly the laudable wish for musical learning to be relevant, accessible and enjoyable too often ends in a curriculum that is unchallenging, de-motivating and sometimes dreary," the report concluded.
Ms McCabe said a teacher's job was to motivate and to make difficult things accessible and enjoyable.
"Teachers will be more likely to achieve that if they are passionate about their subject, if they themselves have a love of learning and are not afraid of using challenging materials with their pupils," she said.
She said teachers needed to challenge themselves as well as their pupils.
"It is all too easy as a teacher to fall back into the familiar routines, opt for the safe topics, stay within your comfort zone. But what excitement is there in that?" Ms McCabe added.
Teachers should not be content to satisfy the minimum standards and or be constrained by exam specifications but should instead be "prepared to use challenging materials to stimulate the interest of their pupils", she said.