Disabled children 'more likely to be bullied'
By Katherine Sellgren
BBC News education reporter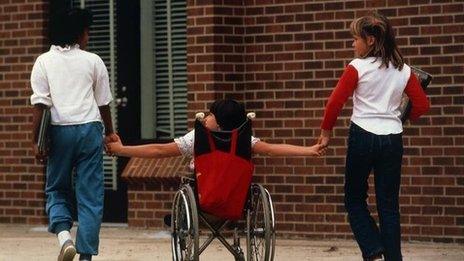 Primary school pupils in England with special educational needs are twice as likely as other children to endure persistent bullying, research suggests.
The study found 12% of seven-year-olds with special needs felt bullied all the time, compared with 6% of non-disabled peers.
It says these children have the "double disadvantage" of disability and of bullying during critical life periods.
The research was carried out by London University's Institute of Education.
The IoE researchers analysed data relating to bullying from two national cohort studies:
the Millennium Cohort Study, which is tracking the lives of 19,000 UK children born between 2000 and 2001
Next Steps, formally known as the Longitudinal Study of Young People in England, which tracks 16,000 people born in England in 1989 and 1990
They found there was "substantially higher risks of being bullied 'all the time' for disabled children compared to non-disabled children".
The study found that even when other factors that can lead to bullying - such as cognitive ability, age within the school year, socio-economic background - were taken into account, disabled children were still at a higher risk of being bullied.
The bullying could take the form of physical abuse, such as hitting or shoving, as well as "relational" bullying, such as name-calling or being excluded.
The report says: "Disabled children and young people in England are facing the 'double disadvantage', both of limiting contexts and consequences linked to disability as well as of bullying, during critical periods in their school careers and development.
"We found that the higher bullying rates found among disabled groups are indeed partly explained by other bullying risk factors such as age within school year, sex and cognitive ability/educational attainment.
"However, our analysis showed that disabled children and adolescents still remain at higher risk of being bullied even after we consider the influence of a wide range of demographic, socio-economic and family factors."
The study said disabled youngsters had been "largely neglected" in research assessing the impact of bullying.
Stella Chatzitheochari, one of the study's authors, said: "We know that being bullied contributes to social inequalities later in life - people who were victims in childhood often grow up to have low self-esteem, anxiety and depression, and perform less well in the labour market than their peers.
"These findings suggest that bullying reinforces the inequalities experienced by disabled people, putting them at a double disadvantage."
Philippa Stobbs, from the Council for Disabled Children, said: "We know that bullying remains the single biggest concern raised by children with special educational needs and disabilities.
"The fact that this continues to be so is unacceptable. This is the first time we're able to demonstrate with absolute certainty just how pervasive this problem is for disabled children and young people across the country."
Related Internet Links
The BBC is not responsible for the content of external sites.