Cuts 'risk standards' at top sixth form colleges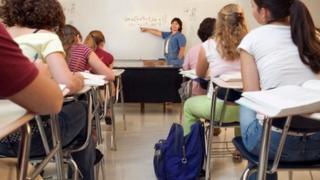 Sixth form colleges outperform other state schools in A-level results, but government cuts are putting standards at risk, research suggests.
Budgets have been "pared to the bone", subjects dropped and staff axed, according to a funding-impact study by the Sixth Form Colleges' Association.
Sixth form colleges in England face "deeper cuts to their budgets than any other group of institutions", it says.
The government said funding was protected for the next two years.
Research by the consultancy London Economics for the SFCA says sixth form college students achieve higher average A-level grades than students in non-selective maintained school or academy sixth forms.
Both studies warn that standards in sixth form colleges are under threat because of funding cuts.
The funding impact study says some sixth form colleges will have lost a third of their funding by the end of this Parliament, due to three major funding cuts since 2011, and are in "a parlous financial state".
'Tipping point'
It argues that sixth form colleges are already worse off because they have to pay VAT, while academy and school sixth forms have it reimbursed by the government.
"The sector is now at tipping point", the report concludes.
"As an extremely lean group of institutions, most sixth form colleges are already pared to the bone, and have very little scope to make further cuts or eke out further efficiencies.
"A further reduction in funding would prove calamitous for many institutions; some would inevitably close, while others would only be able to provide an impoverished educational experience to students."
The authors questioned 87 colleges.
Over two-thirds have had to drop courses this year as a result of budget cuts - 15% more than last year
Over a third have dropped sought-after modern language courses
More than a fifth have lost courses in science, technology, engineering and maths.
Almost all (95%) say they have had to reduce staffing levels
More than two-thirds are teaching students in larger classes.
Almost three-quarters say have had to reduce or remove extra-curricular activities such as sport, music and field trips
Dr Gavan Conlon from London Economics, said "Our research shows that students in sixth form colleges get better exam results, and are more likely to progress to university, than their peers in academy or school sixth forms.
"This is a remarkable achievement given the funding inequalities faced by the sector, and the number of students enrolled in Sixth Form Colleges from disadvantaged backgrounds."
James Kewin, deputy chief executive of the Sixth Form Colleges' Association, said sixth form colleges "have reached the point where they cannot absorb any further cuts to their funding and a cash injection is required to ensure students continue to receive a high quality education.
"We urge the government to introduce a VAT rebate for sixth form colleges to bring them in line with academy and school sixth forms.
"This would provide the average sixth form college with an additional £335,000 per year to invest in the front-line education of students."
A Department for Education spokesman said: "The government has ended the historic unfair funding difference between post-16 schools and colleges by putting both on the same rate.
'High-Quality'
"We have also implemented the recommendations made by Prof Alison Wolf that funding should be on a fair per-student basis, not per-qualification. This ensures young people are studying high-quality qualifications that will help them get on in life.
"At the same time, we have protected funding until the end of the academic year in 2016 so all colleges and schools with sixth forms can continue to plan ahead.
"Colleges are treated differently to schools when it comes to VAT because of their legal status."
Dr Mary Bousted, general secretary of the Association of Teachers and Lecturers, said the government "seems to be set on destroying sixth form colleges even though they achieve some of the best exam results".
Christine Blower, general secretary of the National Union of Teachers, called the figures "another damning indictment of the government's education policy... threatening the education of the 158,000 students taught in sixth form colleges".