Anthony Seldon of Wellington College is knighted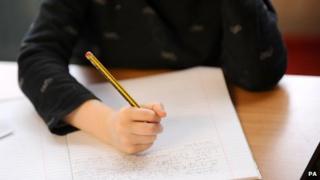 Dr Anthony Seldon, head of Wellington College, has been knighted by the Queen in her annual birthday honours list.
He was one of 33 head teachers awarded knighthoods and damehoods.
Dr Seldon introduced his own curriculum, including lessons in happiness, and pioneered a drive to link state and private schools.
Barry Day, bought in to help the troubled Al-Madinah school, and John Dunford, a contributor to national education policy, are also knighted.
The head of Wellington College told the BBC he was "intensely humbled".
Dr Seldon added: "I am pretty shocked. It will make me work even harder for the causes I believe in."
He set up Wellington Academy in 2009 to give a "quality education to these people who can't afford to pay fees".
Under his leadership, the college, which costs about £33,000 a year to send a child to, has also started an its own in-house research to promote an evidence-based approach to teaching.
It will also share research projects with Harvard Graduate School of Education in the US.
'Chaotic' turnaround
Mr Day, chairman of the Al-Madinah free school in Derby, was bought in at the beginning of the year to turn the troubled school around.
Secondary education at the school will cease this summer after Al-Madinah was placed in special measures by Ofsted last year, which labelled it "chaotic, dysfunctional and inadequate".
The Department for Education recently said the Muslim faith school was making progress.
Mr Day said he had been "fortunate" to work with some of the most "outstanding educationalists and the most talented support staff in the country".
John Dunford is former general secretary of the Association of School and College Leaders.
He works with schools across the country and the government to help disadvantaged pupils.
Mr Dunford said "nobody" could be awarded an honour entirely due to their own efforts and it was his "good fortune" to have led some "exceptional" teams of people.
He added: "I have also had the privilege of working with the best school leaders of my generation, whose efforts have led to the massive improvement in the quality and standard of state education in my lifetime.
"I pay tribute to them and the staff in their schools, from whom I have learned so much.
"It is good that opportunities have been created in recent years for the best school leaders to lead the system and influence the lives of young people well beyond their own school."