School appoints 'head of research'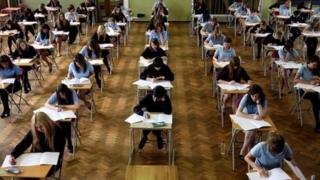 An independent school in Berkshire has appointed its own "head of research".
Wellington College in Berkshire wants a stronger emphasis on evidence-based approaches to teaching - and so is creating its own in-house research hub.
Carl Hendrick, who will lead the research, says understanding what works in teaching should be based on more than a "hunch" or "village wisdom".
There are also plans for the school to share research projects with Harvard Graduate School of Education in the US.
Mr Hendrick, an English teacher who is studying for a PhD in education, has become Wellington College's first head of research. Few other schools are believed to have staff dedicated to research in this way.
He says that creating the role is part of a wider trend for a more robust analysis of what really works in schools.
Laboratory of learning
"The vision is to become a kind of laboratory," he says, with the school testing out ideas and creating its own research.
Wellington College is a teaching school, where new teachers are trained, and the project is intended to involve 10 local state schools and academics from the Institute of Education, University of London, and the University of Reading.
"There is a shift now to think differently," he says, with schools wanting to have a more thorough understanding of what is effective, rather than relying on instinct or assumption.
"Often in schools, we've been going on a hunch or village wisdom. If you were working in medicine, you wouldn't dream of not being across up-to-date research," says Mr Hendrick.
He argues that schools, as other academic institutions, should have their own research programmes, contributing to a wider understanding of how teaching and learning can be improved.
There is much academic educational research produced, says Mr Hendrick, but there can often be a gulf between these theoretical studies and their practical applications.
Too often educational research is "ideologically driven", he says, or else there are questions about its methodology.
Researching what happens in schools is very difficult, he says, because there are so many variable factors and so many different ways that outcomes can be assessed and quantified.
Wellington College, under the leadership of Anthony Seldon, has pioneered ideas to promote "well-being" and "character", as well as academic achievement and exam results.
Mr Hendrick says that creating a research centre in the school will help to find out more about works in the classroom.
"If we're making claims, there should be evidence."