Ofsted is poised for swift inspections, warns Wilshaw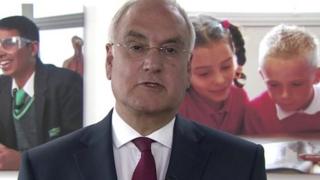 Inspectors are poised to visit any school in England where concerns are raised about an "unbalanced curriculum" or governors abusing their position.
The chief Inspector of schools, Sir Michael Wilshaw, made the warning in the wake of concerns about an Islamist takeover of schools in Birmingham.
Sir Michael also confirmed that Ofsted has conducted inspections in other areas to investigate similar issues.
In a statement, he said he had ordered his team to respond swiftly.
"What inspectors found in a number of schools in Birmingham is deeply disturbing," Sir Michael said.
"We should all be concerned if a school - of any kind - is failing to encourage children to develop tolerant attitudes towards other faiths and cultures or allowing governors to exert inappropriate influence on the curriculum or other aspects of school life.
"It's vitally important that we remain vigilant for such problems developing in any part of the country.
"Under Ofsted's regional structure, our inspectors are now closer to the ground and to those we inspect than ever before. I have asked them to make sure they are using their local knowledge and contacts to identify where these type of problems may be taking hold.
"Where we hear of concerns, we will respond swiftly in order to reassure parents and the wider community that children are receiving the good, safe and well-rounded education to which they are entitled."
Damning verdict
Ofsted published a damning verdict this week on the running of a number of schools in Birmingham.
Five schools in the city were put into special measures after a series of inspections in the wake of the "Trojan Horse" allegations.
The inspections were conducted after claims of a takeover by people with a hardline Islamic agenda.
They found that a "culture of fear and intimidation" had developed in some schools and, in several, governors exerted "inappropriate influence" over how they were being run.