'Trojan Horse' school parents speak out about claims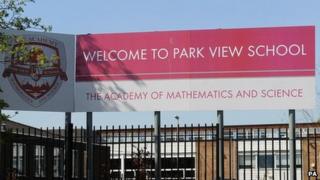 Parents of children attending Nansen Primary, one of the Birmingham schools caught up in the Trojan Horse claims, remain almost entirely loyal to the school - but they are angry. And some are very worried.
Nansen sits opposite its elder brother, Park View, in a grey, quiet street to the north-east of Birmingham town centre.
As the rain falls hesitantly from the sky during the morning school run, a man with an Alsatian dog on a lead shouts at the TV vans with satellite dishes parked outside the school gates they were the "very worst kind".
Mothers and fathers lead their small children by the hand, blinking, through the media furore.
'Very worrying'
One young mother, Shahedah Shah, whose son is at Nansen, is worried.
She says had been thinking about which secondary school to send her child to. He had a place at Park View.
"These reports about extremism [in Park View] are very concerning," she says. "We don't know what is going on in there.
"When you are deciding what school to send your children to, and you hear these things about the school they are supposed to be going to, it is very worrying.
"I am not going to send my son to Park View now. I will send him elsewhere."
But another young mum, who wished to remain unnamed, says such reports were giving the schools a "bad reputation".
Muslim prayers
"It is unfair. The kids just want to learn and there is no proof or evidence of any of these incidents of extremism," she says.
"You wouldn't hear this about Christian or Catholic schools. Why Muslim? The kids are scared about the attention. They don't know what's going on."
Minaz Murtaza, who has two children at Nansen, says she is "really happy" with the school.
"All children get a good education going in here. I would not be pleased if it shuts down," she adds.
She says she sends her son to Nansen to improve his English.
Ms Murtaza says she has heard about the "speaker business" - rumours of Muslim prayers being played through loudspeakers at some of the schools.
"There is Islamic praying here, but after school, not in lessons," she says, adding after school "all the children" used to pray.
She says during the prayers, there was a leader at the front praying with the children, but that they "know it by the heart, as they do it at home - they are not just doing it in their minds".
"I don't want my kids to learn anything wrong, like how to make a bomb," she says. "Just English and maths.
"They are worried about all the attention, it stresses them out. I am not worried about Park View though.
"If these allegations continue, it will get the wrong reputation and it will affect the kids."
'All completely untrue'
Ismail Abduille, who has three children at the primary school, agrees: "These rumours are not true, we are not worried. My kids are happy.
"Maybe some people are not happy with the school and they are using these stories as a way to show it.
"I haven't noticed segregation. My children would say if there were not happy, but they are. Like any school, there are good and bad bits, but it is mostly good."
Musaddik Ahmed's son is six years old. He says: "My main aim is for my son to learn English and to stay and learn maths and get a good education.
"I think these stories are not true. I am not taking any notice."
A mother of three children, who also did not want to be named, says she has been sending her children to Nansen for 12 years, and attended too when she was younger, and stresses it is a "good school".
"Please don't close this school," she says. "All the parents would like their children to stay in this school. If it closes there will be many problems for kids.
"We don't believe the stories about extremism.
"If we have seen anything in school, the kids would complain and that would be a sign of the problem, but it is all completely untrue."