Mandarin: Confucius Institute aims to boost numbers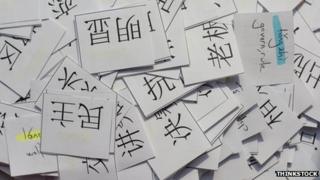 The number of students learning Mandarin in England could double by 2019, says Education Minister Elizabeth Truss.
Ms Truss said a new centre would be set up in London next year to increase the number of Mandarin teachers as it was the "language of the future".
Mandarin is already on the curriculum, but the number of state school teachers able to teach it is low.
The British Council said the move was "excellent news".
Currently, 38% of independent school pupils teach the language compared with 11% of state schools, says the Department for Education (DfE).
'Huge step forward'
The Confucius Institute will be set up in spring next year, and will aim to increase the number of Mandarin teachers to 1,200 by 2019, with the hope many will head to state schools, said the DfE.
About 30 specialist teachers currently qualify in Mandarin each year, and only 1% of the UK's adult population speak it fluently.
Ms Truss said: "China's growing economy brings huge business opportunities for Britain, and it is vital that more of our young people can speak Mandarin to be able to trade in a global market and to develop successful companies."
The centre would be "world-leading" and was a "huge step forward" to boost the number of teachers with the specialism, she said.
The minister added: "In turn, that will mean thousands more young people in our schools will have the opportunity to learn what is the language of the future and the language that will help seal tomorrow's business deals."
Ms Truss spoke at the University of London's Institute of Education, during the annual Chinese conference for schools.
Mandarin growth 'sluggish'
John Worne, director of strategy at the British Council, said: "This is excellent news. Growth in the number of students learning Chinese over the past few years has been sluggish at best - despite it being one of the most important languages for the UK's future on the world's stage, according to our own British Council research."
He said a lack of qualified Chinese teachers had held the UK back, and that the plans would tackle this problem "head-on" and help more young people gain "vital language skills".
The move comes after UK employers told the Confederation of British Industry that Mandarin was second to French as a language they wanted in future employees.
And recent research by the British Council also said Mandarin was in the top five most important languages for the UK's prosperity, security and influence in future years.
Primary schools will have to teach one language from September, with Mandarin an option.